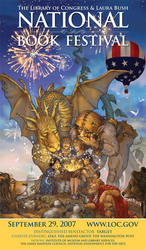 Washington, D.C. (PRWEB) September 26, 2007
In addition to planning a range of activities for this year's National Book Festival on the National Mall on September 29, 2007, the Library just launched the National Book Festival Young Readers' Online Toolkit to bring the festival into libraries, schools and homes across the country.
The Toolkit features information about National Book Festival authors who write for children and teens, podcasts of their readings, exclusive Q&A about their inspiration and writing process, teaching tools and activities for kids. This interactive resource also shows educators, parents and children how they can host their own book festivals.
The new Online Toolkit will help students, educators and parents bring the magic of the National Book Festival to their classrooms, libraries and homes to make the National Book Festival a truly national experience. The Hosting Guide provides an overview of the toolkit and shows how to use its resources to host local reading celebrations. Students can work with their parents, teachers and librarians and follow these easy steps to organize book festivals in their classrooms, libraries and homes.
You can find out more about authors by visiting Author Details}. Once you choose an author, read the author's bio to get an idea of who you would like to celebrate at your book festival. And, check out the author's Scoop to discover the stories behind their stories. Don't forget to download and display the http://www.loc.gov/bookfest/toolkit/hyobf/poster.html [2007 National Book Festival Poster in your home, school, local library and community.
Also, check out additional podcasts with the following participating authors who shared their latest work and discoveries: Terry Pratchett, Maria Celeste Arrarás, Charles Simic, Rosemary Wells, Victoria Rowel, Patricia MacLachlan, Megan McDonald, and Holly Black.
2007 National Book Festival
The free Festival will be held from 10 a.m. to 5 p.m. on Saturday, Sept. 29, on the National Mall in Washington, D.C., between 7th and 14th streets (rain or shine). For the full list of participating authors, illustrators and poets, their books, and other activities at this year's National Book Festival, please visit http://www.loc.gov/bookfest.
# # #