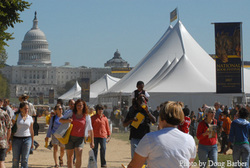 Washington, D.C. (PRWEB) October 2, 2007
More than 120,000 book lovers gathered last Saturday on the National Mall for the seventh annual National Book Festival, organized and sponsored by the Library of Congress and hosted by Mrs. Laura Bush. Festival-goers were entertained by their favorite authors, illustrators and poets as they celebrated creativity and imagination among 11 standing-room-only pavilions including Children; Teens & Children; Fiction & Fantasy; Mysteries & Thrillers; History & Biography; Home & Family; and Poetry.
For those who could not attend the festival or missed a pavilion, author presentations are now available (http://www.loc.gov/bookfest/authors). Click on the author's name for his or her webcast from Saturday's National Book Festival.
"This year's National Book Festival has been a rousing success and an inspiration to all of those who value creativity and the power of the written word to transform lives and all of humanity," said Dr. James H. Billington, the Librarian of Congress. "We are grateful to Mrs. Bush and all of the volunteers and sponsors who have made this event possible."
There was something for everyone at this year's festival. Highlights include:

Children enjoyed photo opportunities with favorite storybook characters such as Curious George, Caillou, Clifford the Big Red Dog, Maya and Miguel and WordGirl.
Snook, the fun-loving giant, dancing sloth, performed three times in the Let's Read America Pavilion #1 to a crowd of excited young fans.
NBA star Al Harrington- Power Forward for the Golden State Warriors and WNBA star Ruth Riley- San Antonio Silver Stars Center read to local school kids as part of the Read to Achieve program which encourages adults to read with children.
Best-selling authors including Joyce Carol Oates, Jodi Picoult, Harry Turtledove, Ken Burns, Geoffrey Ward, David Wiesner, Holly Black, M.T. Anderson, Rosemary Wells, Megan McDonald, J.A. Jance, Lisa Scottoline, David Baldacci, Dr. Sanjay Gupta, Cat Cora, Jack Prelutsky, Judith Martin (Miss Manners), Mercer Mayer and Ann Amernick signed books for fans for hours; Fiction & Fantasy writer Terry Pratchett seemed to hold the record for the day by signing non-stop for three hours!
Teacher, parents and kids gathered in the media tent for a presentation of the newly launched National Book Festival Young Readers' Online Toolkit. The toolkit brings the magic of the National Book Festival to classrooms, libraries and homes across the country to make the event a truly national experience. This interactive resource also provides a guide on how to host a book festival.
In the Library of Congress Pavilion, veterans who were featured in Ken Burns's new PBS documentary The War, spoke about their personal war experiences and discussed filming with Ken Burns. This was just one presentation by the Library's Veterans History Project which serves to interview veterans and collect oral histories, memoirs, letters and photographs.
Also in the Library of Congress Pavilion, festival-goers crowded around the popular graffiti wall which asked questions "Which author and book inspires you the most?" "What would you preserve at the Library of Congress?" "What type of story would you write?" This pavilion gave preservation demonstrations and highlighted the Library's upcoming New Visitors Experience which is an interactive educational experience and will encompass more than 40,000 square feet in the Library's Thomas Jefferson Building.
Bulls Eye the Target Dog made seven appearances (he was well rested after his overnight stay at the Willard Hotel).
Target passed out 20,000 festival reading mats and 30,000 water bottles.
Scholastic featured a bilingual "cozy corner" which provided English and Spanish children's books for kids and parents to read together.
Authors visited their home states in the Pavilion of the States to meet local fans. Also in this pavilion, the six young Letters about Literature winners visited their local state tables after reading their winning letters about their favorite authors.
The 2007 National Book Festival was made possible with generous support from Distinguished Benefactor Target; Charter Sponsors AT&T, The Amend Group and The Washington Post; Patrons AARP, the Institute of Museum and Library Services, the James Madison Council and the National Endowment for the Arts; and Contributors Barnes & Noble, the Library of Congress Federal Credit Union, Marshall and Dee Ann Payne, NBA/WNBA, PBS, Penguin Group (USA), Scholastic Inc. and US Airways.
The Junior League of Washington once again provided hundreds of volunteers to help with this year's National Book Festival.
###