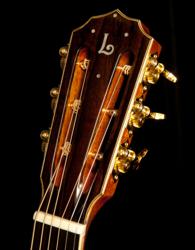 The Lichty guitar is the first handcrafted instrument I've ever owned and it's changed my world! Playing and performing with the Lichty has made me to totally re-think what I expect from an acoustic guitar – wow! - Geoff Achison
Tryon, NC (PRWEB) February 23, 2012
On February 25th and 26th, 2012 custom guitar builder Jay Lichty will have his handmade acoustic guitars and ukuleles on exhibit and for sale at the Spartanburg Guitar Show.
Lichty built his first guitar under the guidance of renowned Virginia luthier Wayne Henderson and has built over 75 handcrafted instruments to date. He was the winner of the Made in the South Awards in 2010, an award honoring Southern ingenuity and craftsmanship.
Professional musicians on several continents play Lichty handmade acoustic guitars including Japanese guitarist Shohei Toyoda, Australian blues/roots artist Geoff Achison, and Nashville-based brothers Tom and Mike Gossin of the top country band Gloriana.
Lichty builds approximately 30 instruments a year, each handcrafted in his Tryon, NC luthier shop. He works with a wide variety of domestic and exotic woods including Walnut, Maple, Sycamore, Mahogany, Koa, Pau Ferro, Brazilian Rosewood and many more. While he typically has a collection of instruments available for immediate sale, the majority of acoustic guitars and ukuleles he crafts are designed and built to order.
Some of the handmade guitars that will be on display and available for purchase at this year's show include the following: a Honduran mahogany dreadnought, an African mahogany OM guitar with a sunburst finish, two Brazilian Rosewood guitars, an original design guitar called the Alchemist built from cocobolo and featuring a side sound port and a wedge-shaped body, a parlor guitar built from Koa and several handmade ukuleles.
The show is held at the Spartanburg Expo Center from 10-6 on Friday February 25th and 10-4 on Sunday February 26th. Admission is $10 for a one-day pass or $15 for a two-day pass. Learn more at http://lichtyguitars.com
About Lichty Guitars
Luthier Jay Lichty builds handmade acoustic guitars and ukuleles in Tryon, NC. He was the winner of the 2010 Made in the South Award and has top performing artists playing his guitars from Australia to Japan to Nashville. He specializes in working with clients to build heirloom quality custom instruments. Learn more at http://www.lichtyguitars.com
###