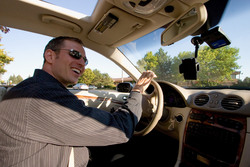 Business has changed and work should too.
Toronto, ON. (PRWEB) July 24, 2008
People in Toronto work long hours and long days. In the face of ever higher gas prices and unstable financial markets, many people are working more days and even longer hours. But one insurance company has gone against the grain and instituted a four day work week.
"It is a natural fit." says Lorne S. Marr, owner of LSM Insurance, a Canadian life insurance company. "Work is still getting done and I'm helping both my employees and the environment."
Now employees of LSM Insurance will be saving hundreds of dollars a month in gas costs. Insurance Consultant Elisabeth Prosper commutes 50 kilometers. Talking on CBC news, she said with the ever-increasing price of gasoline, she is sure to take advantage of the offer. "The fact that I can come to work four days a week saves me a lot of time, and gas too," Mrs. Prosper said.
"I have to work harder and be more focused when I am at work," she adds, "but I love the extra day to be with my family and spend time with friends. Isn't that what life's supposed to be about?"
Senior life insurance broker Jack Bendahan, has also switched to the four-day work week and now parks his Mitsubishi Eclipse convertible at home on Fridays - saving roughly $250 a month on gas.
"There's a lot of driving in this business. I'm all over the place," said Mr. Bendahan, who also co-ordinates his appointments and plans his routes more carefully now to avoid excessive mileage. He has eased up on the gas pedal, as well.
Mr. Bendahan is trying to sell his car, which takes premium gas, and is thinking about purchasing a more fuel-efficient Toyota Yaris.
HR professionals hope more companies will follow suit, but have their doubts. "We are certainly hearing more about it, but people haven't made up their minds yet," says Claude Balthazard, Toronto-based director of HR excellence at the Human Resources Professionals Association of Ontario.
"Happy employees are productive employees. And a four-day week won't hurt the bottom line," concludes Lorne S. Marr. "I honestly believe more companies will realize this."
"Our site visitors don't use any gas at all or even get in their cars to get a life insurance quote," adds Mr. Marr. "Business has changed and work should too."
###