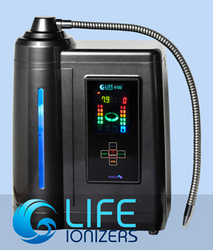 This is an excellent entry-level ionizer for small households not just for your own home, but as a gift for loved ones' homes as well.
Carlsbad, Calif. (PRWEB) November 17, 2009
Small households now have an affordable yet sophisticated way to receive the health benefits of ionized and alkaline water thanks to the recent launch of the LIFE Ionizer™ 4100 model. Already receiving very positive feedback from customers, this new alkaline water ionizer offers additional settings to adjust for hard water sources, is conveniently easier to use with new soft-touch control features and now even offers a more advanced pre-filter solution.
"Our customers wanted new high-tech additions to the popular LIFE Ionizer™ 4000 model, so we redesigned the LIFE Ionizer™ 4100 for the modern kitchen and even enhanced it with a state of the art pre-filtering system," said Rick H. Cabados, founder of EarthTrade Water, Inc., the manufacturer of LIFE Ionizers™. "The result is the LIFE™ 4100: sleek, stylish, affordable, with even more healthy water adjustment settings, better water quality and easy-to-use control functionality just in time for the holiday season. This is an excellent entry-level ionizer for small households not just for your own home, but as a gift for loved ones' homes as well."
The new LIFE Ionizers™ 4100 enhanced model now features five platinum double-dipped Titanium plates with four alkaline modes, three acidic modes and one clean mode. The result is 8 choices of pH power—all pre-filtered and purified to remove contaminants from your local water source.
It also offers the highest levels of pH and ORP anti-oxidants on the ionizer market for its low-end price point with five different settings to optimize the pH and ORP levels. It's for this reason that the LIFE Ionizer™ 4100 provides a high-end alkaline water experience at a lower price point, combining quality with affordability.
"The new LIFE Ionizer™ 4100 model gives the small household more flexibility in what type of water they want produced," Cabados said. "It also includes a new advanced pre-filtering system that ensures better quality water. We're excited about the result, and our customers are too. The feedback has been tremendous."
Along with the additional functionality and modern redesign are the old favorites that have made the LIFE Ionizer™ 4100 model's predecessor a best seller—automatic cleaning, the efficient and energy-saving SMPS power system, and full-function LED pH status meter and filter life display.
To purchase the new LIFE Ionizers 4100™ ionized and alkaline water solution for your household or your family's household, and to view the entire LIFE Ionizers™ line of healthy organic water™ solutions, please visit their website at LifeIonizers.com.
About LIFE Ionizers™:
LIFE Ionizers™ has been a leading supplier of home, commercial, industrial and agricultural water ionizers since 1996. The International Headquarters are in Carlsbad, California with offices in Canada and the United Kingdom.
For more information about the about the company, please visit them on the web at LifeIonizers.com or call 1-800-809-3998.
# # #