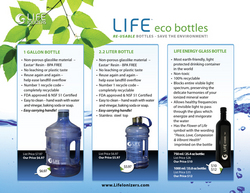 We are bringing back the tradition of storing special health beneficial liquids in the special violet glass. Our entire line of specialty bottles makes it convenient to take the health benefits of water everywhere you go: to the gym, work or school.
Carlsbad, Calif. (PRWEB) November 12, 2009
LIFE Ionizers™ is harnessing both the power of violet glass and BPA-free resin in their new LIFE Energy Bottles, bringing you the healthiest and most energizing water on-the-go!
LIFE's first line of LIFE Energy Bottles™ merges medicinal science with ancient tradition to bring you a stylish and Zen-like glass vessel. The violet glass of LIFE Energy bottles not only preserves and protects your ionized alkaline water, but it also adds positive and harmonious frequencies into your water for vibrant health and well-being.
Violet glass has long been used as a preservation vessel for its selective light-filtering properties. Ancient Egyptians knew how to preserve perishable items by "keeping them in the dark" and many pharmacists in the early 20th Century only used violet glass to store special medicine. Now LIFE Ionizers™ is accessing this little-known secret for your benefit, so that you can store and even enhance the existing healthy properties of your ionized alkaline mineral water from LIFE.
How does it work? The secret lies in the beautiful, dark glass of the LIFE Energy Bottles. The violet glass bottle energizes and protects the delicate harmonies of freshly ionized alkaline mineral water. Simply put, violet glass lets in healthy rays of invisible light while it blocks out all disruptive frequencies of visible light. This means that the benefits of LIFE Ionizers alkaline mineral water last longer and are more portable for ionizer owners with an active and busy lifestyle.
"We are bringing back the tradition of storing special health beneficial liquids in the special violet glass," said Rick H. Cabados, founder of EarthTrade Water, Inc., the manufacturer of LIFE Ionizers™. "There is nothing more health beneficial than water, and our special ionized organic water™ truly brings it to a new level."
The alkaline mineral water created by the LIFE Ionizers™ line of water ionizers represents water in its optimum form for vibrant health. Water charged by a water ionizer from LIFE™ becomes an antioxidant in the body and helps reduce the cellular and DNA damage from free radicals. It can also help neutralize the acidity in our bodies caused by the stress and poor diet of modern life. The special violet colored glass of
LIFE Energy Bottles™ comes in 750 ml and 1000 ml sizes.
"The health benefits of consuming alkaline ionized water are immense," Cabados said. "The fact is we do not consume enough water every day. Now our line of specialty bottles makes it convenient to take the health benefits of water everywhere you go: to the park, the beach, hiking trails, and especially to work or school."
The list of health-beneficial containers from LIFE doesn't stop there. LIFE's second line of water bottles—the LIFE Eco bottles—is the culmination of decades of safe-plastic alternatives research, created from non-toxic resin materials that are free from the toxic chemical Bisphenol-A (BPA). BPA has been suspected of causing health issues for more than 50 years and is known as a hormone-disruptor in humans. Recently studies have linked it to obesity and neurological disorders.
Many people who own any kind of major label reusable water bottle should check the bottom of the bottle for the recycling symbol and the number inside of it. If you see a 7 inside the recycling symbol, be advised that the plastic composite is made with BPA, and should be avoided.
LIFE Eco Bottles BPA-free resin drinking bottles in 2.2 Liters with stainless-steel lids and 1 Gallon sizes. Both sizes are equipped with convenient and ergonomically designed carrying handles for a natural drinking experience.
The new Life Energy Glass Bottle is available online for $10.00 for the 750 ml bottle and $12.00 for the 1000 ml bottle, while the BPA-free bottles are $6.97 for the 2.2 Liter and $9.97 for the 1 Gallon. For more information on these water bottles from LIFE Ionizers™, or the company's entire line of healthy water ionizers, please visit them online at LifeIonizers.com.
About LIFE Ionizers
LIFE Ionizers™ has been a leading supplier of home, commercial, industrial and agricultural water ionizers since 1996. The International Headquarters are in Carlsbad, California with offices in Canada and the United Kingdom.
For more information about the about the company, please visit them on the web at LifeIonizers.com or call 1-800-809-3998.
# # #