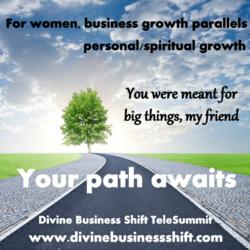 Our greatest work is to realize our highest potential.
Atlanta, GA (PRWEB) December 06, 2012
Life•Business•Growth founder Kerry Swetmon announces a new telesummit, The Divine Business Shift, taking place Dec. 10–14, 2012 and featuring 10 successful women entrepreneurs speaking on topics of interest to women business owners.
While the telesummit is complimentary, an audio library of the interviews is available for purchase for $97. Swetmon says that a portion of the proceeds for those sales will go to Women For Women International, an organization that provides women survivors of war, civil strife and other conflicts with the tools and resources to move from crisis and poverty to stability and self-sufficiency.
Divine Business Shift speakers include:
Ellen Whitehurst is a Lifestylist and Ultimate Health and Wellness expert as well as the author of the bestselling MAKE THIS YOUR LUCKY DAY (Random House, 2008.) Ellen is recognized as the country's premier expert in Feng Shui and other empowering modalities. A former monthly columnist for both 'Redbook' and'Seventeen' magazines, Ellen is also a recurrent contributor to The Huffington Post and John Edward's InfiniteQuest.com among others. Ellen is also the newest Health and Wellness expert for DoctorOz.com.
Jenny Fenig guides gutsy small business owners and women in transition to find their unique path, leave a legacy and enjoy the ride. Jenny is a yogi, mom and coach who helps clients make a positive impact in their life, business and community.
Angela Stalcup is a visionary marketing and strategy expert with a passion for entrepreneurs and business owners. The Atlanta Market Owner for Ladies Who Launch, Angela also created the Velvet Boot™ Business Advisory Program and The Curvy Entrepreneur™.
Molesey Knox Brunson replaces limitation with possibilities and teaches women to be the queens they know they can be. Beauty queen turned author, speaker and success mentor, she believes, "Our greatest work is to realize our highest potential."
Patti Keating, the Money Spot Mentor for entrepreneurs ready to hit six figures or more. Patti is masterful at helping business owners create signature systems and turn passions and purpose into powerful revenue streams.
Vanessa Simpkins, author of From Bankrupt to $900 a Day Selling Mops, teaches business owners to take back their power—and attract more clients, skyrocket their confidence and easily generate more cash flow.
Vasavi Kumar, a certified life coach, transformational speaker, radio host, author, and business-savvy entrepreneur, helps people take action in their lives in unconventional and fearless ways.
Joyce Layman Blackburn is an interactive and engaging motivational speaker whose Mind By Design program helps audiences recognize and remove mental blocks that limit potential, stop sabotaging mind chatter and turn obstacles into opportunities.
Ingrid Geronimo teaches coaches, healers and other service-based entrepreneurs how to connect to their inner guidance, stop second-guessing themselves and discover their big vision, gifts, and worth.
About Life•Business•Growth
Founded in 2012 by Kerry Swetmon, Life•Business•Growth is a holistic movement toward owning your business, nourishing your soul, and creating a life you love. For more information on the organization and the women it supports, visit http://www.lifebusinessgrowth.com.