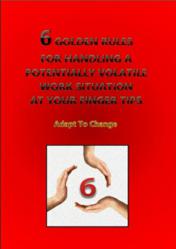 Long term business sustainability is directly linked to the ability to continuously improve and Adapt to Change
Atlanta, GA (PRWEB) March 07, 2013
March 7, 2013 is World Book Day!
Life Business Growth founder, Kerry Swetmon, is pleased to announce an eBook giveaway. Su-Mari Du Bruyn, one of the Life Business Growth Resident Experts and founder of Adapt to Change is generously giving away a copy of the eBook, "Six Golden Rules For Handling A Potentially Volatile Work Situation At Your Finger Tips." The publication provides easy to remember guidelines for effectively managing a potentially volatile work situation.
To receive your free copy, simply send an email to info(at)AdaptToChange(dot)co(dot)za and reference code WBD7313 in the subject line by midnight (CAT) on March 7, 2013.
Hailing from Cape Town, South Africa, Adapt to Change is the foremost authority on the ever-changing workplace. From corporations to small business, Adapt to Change harnesses the power held within an organization to achieve optimization.
Adapt to Change states in it's declaration of intent, "We assist businesses to unleash the latent power within their organization to continuously improve, by empowering individuals to become innovative thinkers - people who tap into their own creativity and confidence to try new things, to challenge the status quo, to make new discoveries will continuously use these skills to the financial benefit of the business in which they are employed."
To learn more about Adapt to Change, please visit their website.