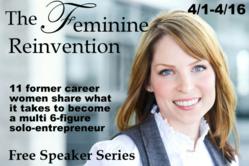 Women can invite more wealth into their lives
Atlanta, GA (PRWEB) March 28, 2013
Life Business Growth is an organization devoted to the path of women entrepreneurs. The organization was established to bring women business owners together on their path to growth and success. All events, trainings, lectures, and more are featured in the organization's weekly newsletter. To sign up, please visit the website.
The Feminine Reinvention speaker series happens April 1-16, 2013. This training is for women who are ready to leave their jobs in pursuit of freedom based solo entrepreneurship. Eleven speakers, one per day, will weigh in on how they created a multi 6-figure business while creating a life they love. Registration is free and only a telephone is necessary to listen in.
Certified Money Coach, Cheryl Campbell, has created a free audio and workbook containing "5 Simple Steps to Attracting Money & Creating the Life of Your Dreams." Campbell states that "when successful women establish a positive relationship with money it becomes the key to feeling more empowered and in control of it. By recreating their money beliefs and behaviors, women can invite more wealth into their lives." The workbook is a tool to discover new ways to change and recreate habits and behaviors to live the life desired. Access to this free training can be found here.
Deborah Genovesi, celebrity media trainer and branding strategist announced "Tell It 2 Sell It" bootcamp beginning April 1, 2013. During the 6-week course, Genovesi teaches participants to master the concept of "Tell It 2 Sell It" in order to create a standout brand and communicate messages that rise above the noise, connect with their ideal prospects and move prospects to take action, quickly and consistently. More information can be found on the website.
About Life Business Growth
Founded in 2012 by Kerry Swetmon, Life Business Growth is a holistic movement toward owning your business, nourishing your soul, and creating a life you love.