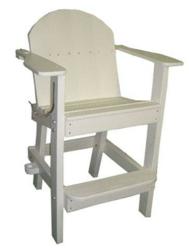 This lifeguard chair does the job for any small pool
Huntington Beach, CA (PRWEB) March 23, 2013
Lifeguard Master recently improves on its lifeguard chair. The new chairs will fill the need and demand of the smaller swimming pools such as what is in an apartment complex.
There are thousands of apartment complexes in the United States. Many apartment complexes have swimming pools. These pools are in need of a lifeguard chair that is suitable to them.
Lifeguard Master realizes this need and has improved upon its lifeguard chair. The chair is designed for the smaller swimming pool. This is the 30 inch lifeguard chair. For more information, please click on: Read More.
Property managers across the country have been asking for lifeguard chairs that cost lower and are easier to maneuver. They like something effective, simple, and easy to maintain. They also want a chair that is easy to move from location to location, and at the same time, being cost effective.
The 30 inch lifeguard chair, that Lifeguard Master has, is small and at the same time stands tall enough for a small pool. It is easy to maneuver and is made and designed specifically for the smaller swimming pools. Usually in smaller pools when 10 or less people are swimming at once, this smaller chair is sufficient. This is the 30 inch chair. If 10 to 20 people are swimming at one time, then the 40 inch chair would do nicely. For swimming pools that have 20 or more swimmers in it at one time, then tall lifeguard chairs are needed. The tall chairs are in betwen 60 and 70 inches in height. For more information, please click on: Visit Website
Another quality that this chair has is its umbrella holder. A lifeguard can be on duty for hours at a time, especially when working alone. Many times in a smaller apartment complex there is only one lifeguard on duty. This lifeguard while on duty can be in the sun all day long, through out the duration of the shift. So an umbrella can be vital to the lifeguard in providing the needed shade. The lifeguard can then focus all the attention on the people swimming and not on trying to get cool from the sun.
This lifeguard chair also comes with a hook. This hook can be used for ring buoys or other life saving devices. The hook makes the lifesaving device very easy to access in a life emergency. The hook is a great place to store these devices at all times and is readily available for the lifeguard to use. For more information please visit: http://www.lifeguardmaster.com/lifeguard-chairs-stands-and-towers
This chair also has a comfortable seat for the lifeguard. A comfortable seat is actually crucial for a life saving situation. A comfortable seat allows the lifeguard's full attention to go toward scanning the water where the patrons are, instead of making him or herself comfortable. Imagine a lifeguard in an uncomfortable seat for hours at a time. The lifeguard will always move, twist and turn in the seat trying to get comfortable. A good seat allows the lifeguard to sit well and perform his duty to the fullest degree, allowing for a much safer pool.
This lifeguard chair will also last and withstand the elements. There is no maintenance needed on this chair, ever. There is no rusting or pealing, ever. The chairs are made from stainless steal hardware and will withstand just about anything. The chairs can be left next to chlorine water worry free. To read more, please visit: LifeguardMaster.com/Lifeguard-Chairs-Stands-and-Towers
The step of the chair is equipped with a no-slip grip pad. This allows the lifeguard to bounce on and off the chair with security and speed. The grip pad drastically reduces the chance of injury and ensures the lifeguard can get on and off with swiftness and efficiency.
When selecting a lifeguard chair, these are the major points to consider:
(1) If the pool is a busy swimming area (20 people or more at one time), pick a tall chair. From the ground to the seat, about 60 to 70 inches
(2) Make sure the lifeguard chair is comfortable. So the lifeguard stays awake and alert while on duty
(3) Get a chair that lasts. Ideally have a chair that will withstand the elements, weather, ocean water, and chlorine waters.
(4) All chairs should come with umbrella holders.
(5) All lifeguard chairs should come with a hook so the ring buoy or accessories can be place there.
(6) When the lifeguard stands on his or chair, the step should be a no slip step.
Lifeguard Master has been providing safe effective, lifeguard equipment for years. We are one of the leaders in the industry for emergency and lifeguarding gear. For more information regarding this and to see our complete line of lifeguard chairs for sale, please visit our website, send us an e-mail, or give us a call.
Sammy
Lifeguard Master
(714) 605-3090
http://www.LifeguardMaster.com/