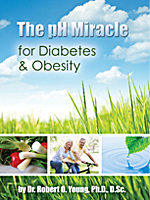 San Diego, CA (PRWEB) June 15, 2009
LIFE Ionizers™ announces today the release of a free educational book discussing the link between the pH balance of an individual's body and the associated risk for developing chronic diseases such as diabetes and obesity. This free book offers advice and tips to empower the individual to achieve healthier lifestyle habits to lose weight, to balance their body's pH, and to prevent and or mitigate the threat of these life-threatening diseases. This book is available for free at http://www.LifeIonizers.com.
Obesity is directly linked the development of diabetes as both are related to an acidic body chemistry. A 2007 CDC report, "National Estimate on Diseases," reports that diabetes affects an estimated 1 in 14 Americans. Chances are that every American is suffering or knows someone who is suffering from either diabetes, obesity or both--which makes the release of The pH Miracle rather timely.
Diabetes and obesity are serious threats to the American population, and the trend of Americans developing these diseases is on the rise with no sign of slowing. In 1991, reports showed that around 15% of Americans were obese. In 2007, that number increased to represent 25% of Americans with chronic obesity. An individual who is obese is at risk of developing a whole list of life-threatening conditions, not limited to diabetes, high blood pressure, stroke, cancer, liver disease, kidney disease, joint problems, and heart attack.
The free book, The pH Miracle, by Dr. Robert O. Young contains 10 easy-to-read chapters. It outlines a series of steps for dramatic improvements in health that have been linked with prevention and treatment of diabetes and obesity. Some examples of the amazing insights you'll gain from this free book include:

Understand the link between diabetes and obesity, and learn how to take control of your eating habits so you can experience improved health and well-being.
Learn about the difference between "good exercise" and "bad exercise" and how you can recognize the signs that your body is burning fat, rather than fermenting sugar - for improved weight loss, improved results and improved recovery time.
Using Dr. Robert Young's "Five Foundation Stones of Healthy Diets", learn how to implement specific changes to your diet, from the quality and pH of your drinking water, to choosing the right supplements and herbs to add to your diet for improved health and vitality.
Dr. Robert O. Young is recognized as one of the leading research scientists in the world. He holds a degree in microbiology and nutrition. His research has explored the causes and treatments of disease to help individuals regain their health and well-being. Dr. Young is also the developer of the new paradigm of human disease, and the discoverer of the etiology of diabetes, cancer and atherosclerosis, among other diseases.
To learn more, contact Juan Zavala of LIFE Ionizers™ at juan (at) earthtrade (dot) com or call 800-809-3998 between 10am and 6pm PST. LIFE Ionizers™ manufactures what we believe to be the finest alkaline mineral water ionizers in existence. As the foremost manufacturer and distributor of these products we are equally proud to be family-owned and operated as well as longstanding members of the Better Business Bureau. For more information, please visit http://www.LifeIonizers.com.
# # #