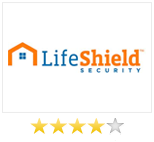 LifeShield Security is making moves in 2013 and has jumped up on our list with great pricing, value, and a reliable service offering.
Houston, TX (PRWEB) March 21, 2013
Security System Reviews, one of the Internet's leading consumer product review and research companies in the home alarm and security system sector, announced today that they have finished their yearly LifeShield review. LifeShield Home Security is a nationally renowned home security system reseller and monitoring service provider that specializes in providing reasonably priced monitoring packages for extended length contracts.
The LifeShield review was part of the annual ranking of overall best security system companies. In addition to ongoing reviews of all of the nation's leading home security system providers, Security System Reviews also ranks these companies in a variety of categories including best security system, best wireless security system, best cellular monitoring service company, and best home security company with home automation integration.
The ranking process is overseen by Security System Review, but the actual research and rating process is conducted by a panel of independent home security experts and consultants that the company hires specifically for this task. One of the requirements for membership on the panel is being free from any sort of financial relationship with any of the companies that are included in the annual review process, whether they make it into the final rankings or not. To qualify for consideration in the rankings security companies must meet a variety of basic requirements, including a minimum Better Business Bureau grade, high customer satisfaction ratings in independently conducted surveys and/or other objective feedback mechanisms, a minimum amount of sales volume, and a nationwide presence.
In addition to LifeShield Home Security, a number of other nationally known security companies were included in the final ranking process, including FrontPoint security, ADT, Vivint Security, and Protect America. A large number of other companies were considered for inclusion in the rankings but were rejected for not meeting one or more quality requirements.
In the company's review of LifeShield, SSR reviewers noted that customers were especially pleased with the value that LifeShield offers their customers. The combination of affordable monitoring service contracts and regular specials run on high tech do-it-yourself alarm and security system equipment made LifeShield an attractive option for many customers. Additionally, the company scored well on ratings of equipment quality and reliability, competence of their technical support staff, ease of installation for their DIY security systems, and high tech all wireless security system options. One other popular feature was the smart phone based cellular monitoring apps that the company offers.
Readers and home security system shoppers who want to learn more about LifeShield Home Security, any of the other security companies reviewed by SSR, or about the home security sector in general should visit SecuritySystemReview.com. The web site is completely free to the public and contains a large selection of reviews, articles, and tips and recommendations from security system professionals.
About SecuritySystemReviews.com
Security System Review aims to be the nation's foremost source of information on the best home alarm system and home security equipment and monitoring service companies. The company's mission is to increase the home security sector's level of technological innovation and customer service by providing consumers access with free, reliable, professional, and objective reviews of all of the nation's leading home security companies.