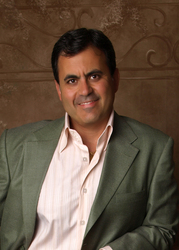 Those affected will be able to bring their diabetes, cholesterol, blood pressure, their weight and stress under control and avoid deadly complications
Dallas, TX (PRWEB) June 30, 2008
Tim Russert died at the prime of his life from a lethal cocktail of high blood pressure, high cholesterol, excess weight and stress. Is it true that tens of millions of Americans are affected by similar deadly cocktails?
According to George Tohme, a pharmacist certified in diabetes management, cholesterol management, smoking cessation, nutrition guidance and a personal trainer, "What no one is telling your audience is that the plague of the 21st century is among us, spreading very fast and killing hundreds of thousands silently every year."
Tohme says a horrific number of people are affected by this plague, which affects every American family. Startling statistics by the CDC reveals that 180 million are obese and overweight, 110 million are walking with partially blocked arteries, 160 million have blood pressure or pre-blood pressure, 76 million have diabetes or pre-diabetes and 700,000 die every year from heart related disease or attacks.
"Did your audience know the most shocking revelations by the CDC that we didn't expect; 1.7 million die every year from three preventable causes: Obesity, physical inactivity and smoking," said Tohme.
"If they're like most people, your audience probably never even thought the above facts could be true -- but they are," said Tohme, who is also an author and lifestyle makeover expert who has successfully helped tens of thousands improve their lifestyle choices and prevent, manage or even reverse chronic deadly diseases over 21 years of pharmacy practice.
This really shows that people urgently need a lifestyle makeover, especially when making uninformed lifestyles choices have been costing them their lives.
Tohme, who himself successfully conquered a 17 year battle with obesity will share with your audience the 5 vital keys to a lifestyle makeover that can literally help people avoid the path to deadly conditions that claimed Tim Russert and millions like him.
"The good news is that making just a couple of favorable lifestyle choices daily will reverse the course of this doomsday's scenario and is the only way forward to a safe haven of great health," says Tohme.
Tohme reveals the secrets of how 76 million can start the process of a lifestyle makeover and expect a natural lifespan in his upcoming book ''Lifestyle Makeover for Diabetics and Pre-Diabetics'' with a release date of October 1, 2008 at major retailers. "Those affected will be able to bring their diabetes, cholesterol, blood pressure, their weight and stress under control and avoid deadly complications," comments Tohme.
Non diabetics who are obese or overweight , couch potatoes, have Cholesterol, blood pressure, and are smokers can alter the course of their lives with a series of ebooks, Tohme has available on http://www.LifestyleMakeoverEbook.com.
"Learning how to build new good habits, making balanced food, portion sizes and activity choices, losing weight without dieting or deprivation of any food, making favorable snacks and beverage choices, avoiding or managing and even reversing current deadly diseases and doing it all by making just a couple baby steps a day is the hallmark of a lifestyle makeover revealed in those ebooks and the soft cover release on 10/01/08," according to Tohme.
George Tohme, pharmacist, Univ. Of Pittsburgh, Pa. graduate, is currently practicing in Texas. Tohme is certified in diabetes management, cholesterol management, smoking cessation, nutrition guidance and is a certified personal trainer. Tohme is available for interviews and consultations at a moment's notice.
Contact:
Pharmacist George Tohme
Cell: 214 674 0183
email: mail@lifestyle-makeover.com
Website: http://www.lifestyle-makeover.com
Author of: ''Lifestyle Makeover for Diabetics and Pre-Diabetics'' (Pub date:10/01/2008)
Author of several Lifestyle Makeover ebooks on preventable health conditions mentioned in this release available on: http://www.LifestyleMakeoverEbook.com.
http://www.askgeorgeaboutdiabetes.com
###