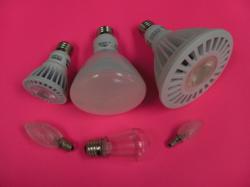 Amherst, NH (PRWEB) March 22, 2013
Northwest Lighting Systems Co. announces a new program that will promote the use of light-emitting diodes (LEDs) as light sources in lamps and other fixtures.
In the past couple of years, most of the major manufacturers of lighting products have introduced fixtures and lamps that utilize LEDs as the light source. Up to now, the high initial cost and a general lack of knowledge on the part of the end users have proven to be stubborn barriers to the widespread use of this technology. Northwest Lighting Systems Co. believes that the time has come to get the word out and promote this product line.
For consumers and facility managers who place a high priority on cutting their electric consumption for financial and environmental reasons, LED light sources offer up to 75 percent energy savings compared to traditional light sources.
While traditional light sources offer 1,000-25,000 hours of life, a LED light fixture or bulb can last 40,000 hours or more before needing replacement. For light fixtures that are high in the air or in difficult-to-access locations, the reduced maintenance should be a significant motivation to switch to LED.
Unlike fluorescent or HID lamps, a LED lamp contains no mercury, eliminating the need to properly dispose of the lamp at life end. For many, this environmentally safe product should be a big attraction.
Although the upfront cost of LED lamps and fixtures will always be significantly higher than the incandescent, fluorescent or HID alternatives, an educated consumer can see that the installed cost over the life of a LED light source can be attractive when life, energy savings, reduced maintenance cost and disposal costs are considered.
With many electrical utilities now including LED retrofits in their commercial rebate programs, paybacks can be realized that are well within most company policies.
Northwest Lighting Systems markets LED fixtures and lamps from a wide range of quality manufacturers. Some have been supplying lighting products for over 20 years, while others are new, emerging companies that contribute exciting new products to Northwest's offering. As they have done for 22 years, Northwest Lighting Systems Co. will continue to offer lighting contractors and facility managers with the best lighting solutions available.
About the company:
Northwest Lighting Systems Co. is a nationwide wholesaler of replacement parts for commercial and industrial lighting fixtures as well as new fixtures. The organization has been in business for 21 years and is headquartered in Burnsville, MN with warehouses in Coon Rapids, MN, Tempe, AZ and Amherst, NH as well as an online store at http://www.lightingoutletnh.com. Northwest Lighting markets to electrical contractors, lighting maintenance companies, property managers and facilities in all 50 states.