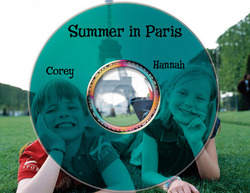 Corvallis, Oregon (PRWEB) August 15, 2007
LightScribe Direct Disc Labeling announced today the LightScribe Travel Kit that enables consumers to preserve their vacation memories and add that personal touch to their DVD and CD label designs. The LightScribe Travel Kit's DVD/CD label tips, templates and resources are available for free download on lightscribe.com -- just in time as people return from summer holidays.
To ensure that discs containing their travel memories stand out, customers owning a LightScribe-enabled drive can go to the Travel Kit (http://www.lightscribe.com/go/create) and download travel DVD and CD label designs, mailers and disc sleeve designs that reflect their favorite trip memories to share with family and friends.
With the new kit, travelers can create personalized custom designs that integrate travel photos with text so that the discs are personalized and capture their special memories from each unique trip. With LightScribe, photo and video CDs and DVDs can be labeled with a memorable photo from the vacation so that the discs can be quickly identified with a favorite visual memory.
LightScribe -- a laser DVD/CD label burning technology found in many popular brands of disc burners, laptops and PCs -- gives people the ability to easily burn silkscreen-quality photos, graphics, images and text directly onto LightScribe CDs and DVDs. A simple title printed in normal mode will typically take a couple of minutes. A fuller disc image will take approximately 15-20 minutes. LightScribe DVDs and CDs come in gold, with CDs available in red, orange, yellow, blue and green.
LightScribe DVD and CD label burning technology, the only widely-available embedded disc label technology, is licensed to over 80 optical drive and media manufacturers, software developers, media and computer brands worldwide. LightScribe-enabled CDs, DVDs, software, desktops, notebooks, aftermarket optical disc drives and duplicator systems are available at major retailers worldwide, as well as through most leading brands online.
About LightScribe
LightScribe Direct Disc Labeling offers consumers and businesses a simple, no-hassle way to burn professional-looking, silkscreen-quality labels on their CDs and DVDs. LightScribe extends optical media, recorders and software through an integrated system of media with special laser-sensitive coating, laser control and imaging drive modifications, and labeling software enhancements. LightScribe uses the same laser that burns data in the disc drive to create precise, iridescent labels. LightScribe technology was developed and patented by HP. A business unit of HP, LightScribe licenses its technology to optical industry leaders in drive and media manufacturing, and to hardware, media and software brands. Additional information is available at http://www.lightscribe.com.
###