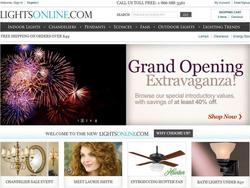 With LightsOnline.com, we can now offer a personalized experience to a national audience of customers.
Braselton, GA (PRWEB) June 10, 2010
Progressive Lighting, Inc. is pleased to announce the re-launch of its e-commerce website, LightsOnline.com, featuring a new design and the same great selection of indoor lighting and outdoor lighting, chandeliers and ceiling fans from top brands such as Quoizel, Murray Feiss, George Kovacs, and the company's own Savoy House label. The site has been re-designed to bring the "showroom" experience to an online audience of consumers, designers, and contractors alike.
"At our state-of-the-art Progressive Lighting and Lee Lighting retail showrooms, we give our customers the star treatment," said Troy Lee, General Manager of Progressive Lighting, Inc. "With LightsOnline.com, we can now offer the same personalized experience to a national audience of customers."
Besides a beautiful new look, LightsOnline.com now offers lighting ideas and advice through a new content area called Lighting Trends. Updated frequently, Lighting Trends includes exclusive designer interviews, 'how-to' articles and videos, and plenty of design inspiration. Other new merchandising features include an image zoom, customer ratings, enhanced descriptions, and product-centric videos for selected items.
The new website is built on the WebLinc Direct eCommerce platform. Based in Philadelphia, WebLinc's other clients include Barrie Pace, Oneida, and Urban Outfitters' Free People brand.
"We were impressed by WebLinc's experience working with Internet Retailer Top 500 brands," said Jon Eggleton, Progressive Lighting's Director of E-Commerce. "Their platform offers a very scalable and flexible solution that will enable us to tailor the site based on how customers tell us they want to shop for lighting."
To complete the true showroom experience, all LightsOnline.com customer service professionals will be certified by the American Lighting Association, and equipped to help customers choose the outdoor and indoor lights that meet their individual needs. A division of Progressive Lighting, Inc., the site will be supported from the company's Braselton, Georgia headquarters and distribution facility.
LightsOnline.com is a division of Progressive Lighting, Inc., one of the largest and most trusted names in residential lighting, with locations in Georgia, Texas and North Carolina. Visit LightsOnline.com or ProgressiveLighting.com for more information, or call us at 1-866-688-3562.
###