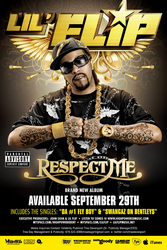 The thing about this album is that it's so reflective of me, my music, life and lifestyle
Atlanta, GA (PRWEB) August 16, 2009
The Lone Star state's Lil Flip, aka Flip Gates, is back again and ready to seize his rightful spot among southern rap royalty with the High Powered Entertainment CD release Respect Me, online and in stores everywhere on September 29th.
With street inspired themes, state of the art rhymes, and cutting edge production, this album will most definitely keep heads banging and clubs jumping. A voracious prodigy of the late legendary mix tape visionary DJ Screw, Lil Flip has delivered a winner with Respect Me; a killer collection of 15 original certified anthems, produced by J Silva (Keyshia Cole, Lil Wayne, E-40, Daz Dillinger and more).
The title track "RESPECT ME", offers fans a glimpse into the rapper's past and present deeds, set to a hard driving beat. "SHAWTY WANNA THUGG", a swag strong Hip Hop/ R&B joint, meshes smooth vocals and Flip's magnetizing lyrics. "SWANGAZ ON BENTLEYS" is a lyrical wonderland of quick punch lines and infectious flow all topped off with a catchy, chopped and screwed hook. Other titles include the LP's 1st single; "Da #1 Fly Boy", "2 Steppin", "I Got To Be", "I'm Back" and more.
"The thing about this album is that it's so reflective of me, my music, life and lifestyle," says the laid back 28-year-old Lil Flip, "Trust me; everything I rap about is based on truth. So when I rhyme dirty style about the Bentleys, the clubs, the platinum, the girls, my life's lessons or whatever, it's not bragging, it's just fact."
The underground legendary rapper is constantly in the lab creating and striving to put out quality music for his loyal fans. Distributed by E1 Entertainment (formerly Koch), Respect Me is a solid full length LP that is sure to satiate any rap aficionado and garner Flip Gates, respect he deserves!
Want a sneak peek of RESPECT ME? Check out these links including the hot new single "Da #1 Fly Boy":
Flip Gate's Official Media Tools Kit is available for Press at Online Media Kit. To request a CD for Review contact Celebrity Publicist Trea Davenport of Trea Day Management & Publicity at 678-523-3088 or via email at treadaypr(at)gmail.com. To learn more about Lil Flip or for music samples visit Lil_Flip_Myspace.
###