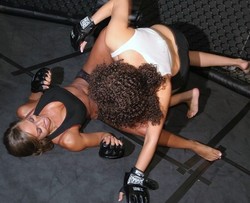 This video is the appetizer and my Respect Me album is the main course for the fans hungry for more Flip Gates
Atlanta, GA (PRWEB) September 30, 2009
Directed by the highly lauded Christian Strickland, Houston rapper Lil Flip recently filmed the music video for his new single "Da #1 Flyboy" from the all new full length LP; Respect Me (High Powered Entertainment/E1), online and in stores everywhere now.
With two music videos ("Sunshine" & "Game Over") retired on BET'S 106 & Park, Flip's newest video gives a glimpse into the life of a fun loving player who indulges in the "good life" as a UFC promoter for sexy FEMALE fighters. The beautiful boxers endure a steamy brawl to impress Da #1 Flyboy!
"This video is the appetizer and my Respect Me album is the main course for the fans hungry for more Flip Gates," stated Lil Flip.
With the lavish landscape and ladies of Seattle, WA as the backdrop, "Da #1 Flyboy" video also features and introduces High Powered Entertainment's Jay Townsend, the smooth vocalist who laces the hook on the banging track along with several others on Flip's Respect Me LP.
Courtesy of The Underground Girls of Hip Hop Behind The Scenes of Da #1 Flyboy Music Video
The visionary behind music videos of such artist as the Ying Yang Twins, Webbie, David Banner and Hurricane's Chris "Halle Berry", Christain Strickland has also put his directorial stamp on this quintessential playboy video.
Check Out Exclusive Stills Courtesy of Carlos Imani: http://gallery.me.com/carlosimani#100543
With Executive/Super Producer J Silva at the helm, High Powered Entertainment is respected among its peers, having recorded and released artists ranging from Spice 1, E-40, Tech 9 and Keak Da Sneak to Jagged Edge, Kurupt and Snoop Dogg.
Distributed by E1 (formerly Koch), Respect Me is a solid full length LP that is sure to satiate any rap aficionado and garner "The Freestyle King" the respect he deserves.
To request a CD for Review or to arrange an interview with Lil Flip, contact Celebrity Publicist Trea Davenport at 678-523-3088 or via email at treadaypr@gmail.com. Flip's Online Media Tools Kit is available for Press at Media Kit--Attached photos courtesy of LuisOngpin.com.
###