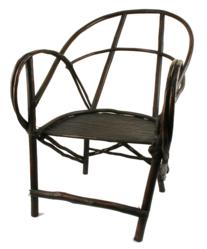 "This collection has several items of great historic and personal importance, especially the 1860 Lincoln chair," James Cornelius, Ph.D., Curator of the Lincoln Collection at the Abraham Lincoln Presidential Library & Museum.
Fairfield, CT (PRWEB) February 08, 2013
When the Academy Awards are broadcast on February 24th, someone could have Abraham Lincoln's actual Nomination Chair as the focal point of their Oscar party. In a unique offering, History You Can Own, a collaboration between two respected experts in rare documents and artifacts, will auction one of the most comprehensive collections of Lincolniana assembled in recent memory. The auction will go live on eBay on February 8th and bidding will begin at $1,000,000. The auction will conclude on February 17th and the Lincoln Nomination Chair is guaranteed to be delivered in time for the Oscars.
"This collection has several items of great historic and personal importance, especially the 1860 Lincoln chair and his 1858 letter opposing the Dred Scott decision," said James Cornelius, Ph.D., Curator of the Lincoln Collection at the Abraham Lincoln Presidential Library & Museum in Springfield, Illinois. "If the buyer is philanthropically motivated, we hope that he or she will eventually consider the Abraham Lincoln Presidential Library as a place for these treasures to rest."
The winning bidder will also be helping the U.S.-based international charity Free the Slaves, which will receive 10% of the final sale price. The organization, which frees victims of modern-day slavery around the world, was selected to celebrate Lincoln's most important achievement—the abolition of slavery in the United States. "We are honored that Free the Slaves has been chosen to receive a portion of the proceeds from the auction," said the group's co-founder, Dr. Kevin Bales. "Lincoln's actions to free slaves are among the greatest achievements in the history of the abolition movement. Our group will use the contribution to help finish what Lincoln started -- creating a world forever free from slavery."
"We're offering a unique opportunity for collectors with a passion for history to own numerous Lincoln documents and artifacts. This rich offering reflects the span of Lincoln's adult life from prairie lawyer, to the Presidency, to immortality in the American pantheon," said Seth Kaller, a leading expert in rare historic documents. "Beginning with the chair in which Lincoln was sitting when he received the telegram that he had won the 1860 Republican Presidential nomination, the collection contains more than 50 items, including 12 documents handwritten and/or signed by Lincoln, and others by Frederick Douglass, William T. Sherman, and Ulysses S. Grant, along with rare books, artifacts, images, and imprints."
Seth Kaller, owner of Seth Kaller Inc., and fellow rare document expert John Reznikoff, owner of University Archives, partnered to start History You Can Own, along with Stephen Rockwell Desloge, a relative of Norman Rockwell and owner of Rockwell Art & Framing, which houses the History You Can Own gallery in Westport Connecticut. Reznikoff and Kaller recently sold a portion of Lincoln's final State of the Union Address, and last year Kaller handled the sale at auction of a rare Lincoln-signed copy of the Emancipation Proclamation that sold for $2.1 million.
In addition to the Nomination Chair other items in the collection to be auctioned include:

An important handwritten Lincoln letter in which he pushes for Arkansas without slavery
A first-day printing of the Gettysburg Address from the New York World newspaper
An 1860 first edition of The Lincoln-Douglas Debates
A Currier & Ives print with the first identified reference to baseball as the "National Game" depicting Lincoln as the winning player
A large, handsomely-engraved vellum military commission signed by Abraham Lincoln and co-signed by Secretary of the Navy, Gideon Welles
A quotation, handwritten and signed by Frederick Douglass, declaring his vision of equality
A beautifully-detailed lithograph portrait of Lincoln done by Currier & Ives, dated 1865
Highlights from the collection, including the Nomination Chair, will be on display at the affiliated C. Parker Gallery in Greenwich, Connecticut during the auction. Special showings are also available on request and the gallery will hold an open house on February 12th, Lincoln's Birthday.
BACKGROUND
History You Can Own offers a rare glimpse into the past and a unique opportunity for anyone to own an authentic piece of Americana. The venture is a partnership between document experts Seth Kaller of Seth Kaller, Inc. in White Plains, New York, and John Reznikoff of University Archives in Westport, Connecticut, along with Stephen Rockwell Desloge, owner of the six Rockwell Galleries in Fairfield County, Connecticut. Inventory changes on a regular basis with prices from $100 to over $1,000,000 and includes a wide range of historical material from presidents to pop stars. Items for sale can be viewed at Rockwell Art & Framing's Westport gallery located at 236 Post Road East (203-227-1800) as well as at The C. Parker Gallery at 17 East Putnam Road in Greenwich, Connecticut (203-253-0934) or online at http://www.historyyoucanown.com, http://www.sethkaller.com and http://www.universityarchives.com.
Free the Slaves
There are 27 million people in slavery today. They are forced to work without pay, under threat of violence, and they are unable to walk away. They can be found in brothels, factories, mines, farm fields, restaurants, construction sites and private homes. Many slaves have been tricked by traffickers who lure vulnerable people with false promises of good jobs or education. Some slaves are marched to work at gunpoint. Others are trapped by phony debts. Slavery is illegal everywhere, but it happens nearly everywhere. Free the Slaves is dedicated to ending slavery world-wide. They call on businesses to clean up their supply chains and for consumers to demand slavery-free products. They believe governments and international institutions must toughen enforcement and fund anti-slavery work worldwide, and that activists and advocates must educate the vulnerable about their rights and empower those in slavery to take a stand for freedom. More information can be found at http://www.freetheslaves.net.