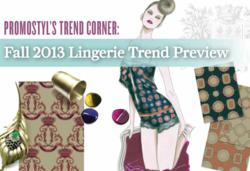 We are thrilled to collaborate with Promostyl. They are one of the most respected trend agencies in the world and our readers will gain some valuable insight and inspiration from their work
New York, NY (PRWEB) February 14, 2013
The Lingerie Journal partners with Promostyl, one world's leading international trend research and design agencies, to create a new series called "Promostyl's Trend Corner" giving readers access and insights into upcoming lingerie trends
The new series kicks off in with a briefing on Fall 2013 Lingerie Trends.
"As trend forecasters we are always observing and interpreting cultural currents and emerging lifestyles worldwide to keep our clients a step ahead of consumer demands," said Maria Teresa Sampedro, trend consultant at Promostyl. "We look forward to inspiring the Lingerie Journal's readers through our trend column and invite you to check out our website for more information."
Promostyl has been in the business of trends since 1966 and today has become recognized for its color intelligence and sophisticated yet playful lingerie concepts. The company has offices in Paris, Tokyo and New York.
Regarding the new partnership, Luis Paredes, publisher of the Lingerie Journal said, "We are thrilled to collaborate with Promostyl. They are one of the most respected trend agencies in the world and our readers will gain some valuable insight and inspiration from their work."
To see the debut article, please visit: http://thelingeriejournal.com/promostyls-trend-corner-fall-2013-trend-preview/
About Promostyl
Promostyl is an International trend agency and the company's trendbooks are designed to anticipate the current trends in design, fashion, and marketing to give our clients a strategic edge in the market place. Additionally, Promostyl's consulting services provide clients with personalized range of services in all phases of brand, collection and product design.
About The Lingerie Journal
The Lingerie Journal is the number one online lingerie trade publication in the United States reaching hundreds of consumers, buyers, lingerie retail store owners, independent lingerie designers, wholesale manufacturers, influential lingerie bloggers, and other intimate apparel professionals (as well as those in related fields) on a daily basis with lingerie news and lingerie trends. Follow and interact with the Lingerie Journal on Twitter to learn more @lingeriejournal.