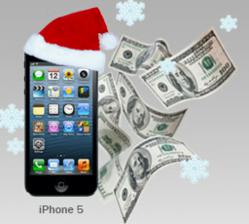 Virginia City, NV (PRWEB) December 21, 2012
From 2009, LinksManagement has provided high PageRank links to over 500 customers around the world. With professional link management system and a skilled staff on board, LinksManagement assists its clients with everything from SEO consultation to a search of the most relevant PR1-PR10 links for a customer's website. The users of the service experienced a rankings increase and traffic boosts after purchasing links on relevant pages, and 87% of customers reached Google Top 10 for their keywords. The success rate depends on the choice of keyword phrases and on the correct execution of SEO recommendations.
"We know that website owners and our customers are fond of the latest IT technologies, and this Christmas we want to give away an iPhone 5 to one of our customers who will make an order during our special offer. During this time, every buyer will get a 10% deposit bonus which will add an extra 10% to the effectiveness of his link-building campaign, or will save 10% on his savings during links prolongation," says Karin Foster, one of the SEO experts and consultants at LinksManagement.
The deposit bonus will be added to the customer's account within 24 hours after the order. On December 25, an iPhone 5 will be raffled among all website owners who uploaded funds to their accounts on LinksManagement from December 17, 2012 through December 24, 2012.
The easy-to-use SEO platform helps to select highly relevant Web pages for almost every business, to purchase links on them and to manage the links. LinksManagement guarantees the quality of all purchased links and constantly checks their status and PR of links, notifying customers about all changes.
About LinksManagement.com:
PR1-PR10 contextual link building system, LinksManagement.com serves its clients for what they most desire to get - high quality backlinks that lead to a significant rankings boost on search engines. LinksManagement is the only Web service that emphasizes clients' wishes and justifies prices, the irreplaceable link-building system for SEO experts.