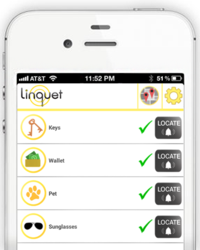 We're constantly forgetting or losing our phone, keys, bag, wallet, pet, purse, laptop--the list goes on and on. This is exactly why we invented Linquet.
Vancouver, BC (PRWEB) March 12, 2013
Linquet, the Internet of Things company with the mission of linking everything, today announced the launch of a crowd funding campaign for its next generation anti-loss/anti-theft product, Linquet Mini.
Part hardware, part app and part cloud, the innovative Linquet Mini is designed to prevent the loss or theft of one's phones and valuables. During the crowd funding campaign, company backers can reserve their Linquet Mini, risk-free, at the lowest pricing available.
The first cloud-based anti-loss solution, Linquet gives people an effortless way to keep tabs on everything important to them by allowing them to 'linq' their valuables to their smartphone. Using Bluetooth technology, Linquet can be added ('linqed') to a phone via the free Linquet app. The latest addition to the Linquet family, Linquet Mini works with iOS devices and has a one year battery life, even with 24/7 use. Slightly larger than a quarter, Linquet Mini is so tiny it can easily be slipped into even the smallest wallets or attached to a passport.
As long as linqed items stay in range of the phone, it remains silent. When moved out of range, both the phone and Linquet attached to the valuable will alarm, preventing people from losing or forgetting their things. Just in case it's too noisy to hear the alarm, the time and location are updated to the cloud in real time, so people can easily retrieve their forgotten valuables later.
"Face it, we're all losers," says Pooya Kazerouni, founder of Linquet. "We all have busy lives and are constantly forgetting or losing our phone, keys, bag, wallet, pet, purse, laptop--the list goes on and on. This is exactly why we invented Linquet. With our crowd funding campaign kicking off today we are giving people the opportunity to back the company and get early bird pricing on a unique cloud-based product every single one of us can benefit from."
Designed with a simple and intuitive user interface, Linquet works automatically. After valuables are 'linqed,' Linquet provides constant protection, all without the need to open the app or even bring out the phone.
Linquet Mini is available for early reservation on linquetmini.com for the low price of $25 including registration and shipping to the U.S. and Canada. Unlike traditional crowd funding, Linquet will not be charging backers up-front, and will only charge credit cards once the Linquet Minis are ready to ship.
Backers who reserve Linquet Mini during the crowdfunding campaign will also receive a full year of the cloud-based service for free. For every three referrals that result in a Linquet Mini reservation, referring backers will be rewarded with a free Linquet Mini and one year of the cloud service. Special high quantity, early bird pricing is also available for select, pre-approved distributors.
Once commercially available, under the Linquet HaaS (Hardware-as-a-Service) business model, Linquet Mini's will be available for free with the $29.99/year cloud service.
Linquet Mini leverages Bluetooth Low Energy (BLE) technology and is compatible with iPhone 4S, iPhone 5, new iPad, iPad mini and new iPod touch.
For more information on Linquet's crowd funding efforts and additional product details visit http://www.linquetmini.com.
About Linquet
Linquet (pronounced Link-et) is an Internet Of Things company with the single mission of linking everything. Linquet connects, or 'linqs,' the real world to the virtual world in order to make the world more secure, more productive and just… better. The first cloud-based solution on the market, Linquet is the most comprehensive and easy to use anti-loss/anti-theft solution available. Designed to help people save both time and money, Linquet's goal is simple –provide users with peace of mind and make sure they never lose anything again. For more information visit https://linquet.com.