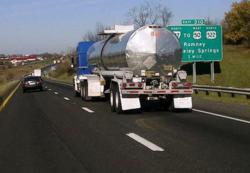 "You can't just assume that anyone is qualified to haul any liquid," said Jennifer Boycourt, Logistics Coordinator for ASGT, Virginia Office. "There are so many regulations of the trucking industry as there should be to assure safety."
Barefoot Bay, FL (PRWEB) March 28, 2013
When Sandy Bent, owner of All Systems Go Transport, Inc. (ASGT) in Barefoot Bay, FL started her transportation broker business in 2005, she never imagined the demand that would grow for hauling bulk liquid commodities. "I've worked in the trucking industry for over 25 years," said Bent. "When the average person thinks about trucking, they imagine the 18-wheeler trailer, van or flat-bed truck. It's what is most commonly seen on the highway. Although we work with over 100 reputable carriers and freight shipping companies throughout the US and Canada and utilize all varieties of transport, my brokerage specializes in using tankers for bulk liquid transport, both single and multi-compartment."
There are many logistical factors that go into hauling bulk liquid. What is the product? Is it hazardous or non-hazardous? Are there special tanker needs in order to haul the liquid? Does the tanker need a special liner to properly contain the product to insure safe travel? Does the product have limited time to make it from point A to point B before it begins to deteriorate rendering it useless for its intended purpose?
When most see a larger tanker truck they imagine a load of milk or fuel, but in today's recycling conscious society, manufacturers have learned to utilize products in different ways to be used for many different things. Many of these products require shipping large quantities of liquid bulk from a production center, plant, port or warehouse on one side of the USA to a manufacturer or refinery on the opposite coast (or somewhere in between). "You would be amazed at some of the loads we haul," said Bent. "Let's see, regular loads are Corn Oil, Corn Steep, Yellow Grease, Brown Grease, Waste or Used Vegetable Oil, Lignon, Tall Oil, Bio-Fuel, Ethanol, Methyl Ethyl Ketone, Isopropanol, Solvents, Light Vis Lube Oil, Magnesium Nitrate, Soil Builders, Liquid Fertilizers – (with a slight chuckle) - just to name a few. You have to be specialized to do the job the right way. The logistics are cumbersome, but after specializing in liquid bulk shipping all over the USA and Canada for so many years, we have it down."
It certainly is true. To watch the logistics team in action is amazing. Before the carriers are even contacted, many questions must be answered. And only after a thorough understanding of the product and shipping logistics, ASGT will then arrange transport. "You can't just assume that anyone is qualified to haul any liquid," said Jennifer Boycourt, Logistics Coordinator for ASGT, Virginia Office. "There are so many regulations of the trucking industry as there should be to assure safety. No company wants their name associated with an accidental spill of any liquid product, much less a hazardous product. Utilizing incorrect equipment or drivers without understanding the entire process will always jeopardize safe transport."
When choosing how to ship any product but especially liquid, companies have several choices. They can hire a shipping company direct, they can purchase their own equipment and employ their own drivers or they can hire a qualified transportation broker such as All Systems Go Transport. Most companies are choosing the latter option. It's not hard to understand why. Most of the larger shipping companies don't specialize in liquid bulk. Their fleets are designed to haul dry bulk products on flat beds or in trailers. For a company to build and maintain a tanker fleet while paying insurance and wages to appropriately licensed drivers can be an overwhelming expense. Not to mention the numerous hoops and regulations a company must stay on top of. Hiring a qualified transportation broker has become the most sensible option. Reputable brokers have all of the correct licensing, insurance and know-how. Plus a good one has access to an entire fleet of carriers with the correct equipment and qualified drivers.
How do you know if the broker is credible? Ask these questions.
a. Is the broker licensed and bonded?
b. Will the broker allow a credit check?
c. How long has the broker been in business?
d. What kind of insurance does the broker carry?
e. What is their reputation in the industry?
f. Do they have customer and carrier references?
g. How does the broker select the carriers in their carrier base, and does the broker maintain current credentials and insurance documents on each carrier in their carrier base?
h. What kind of communication and oversight does the broker have over the carriers who are hauling your freight?
i. What types of media does the broker use to locate carriers to cover customers' freight?
j. How long does it take for your broker to respond to you?
k. Does your broker maintain records on past shipments that they have completed for you so you do not have to provide them the information every time they cover a load for you?
l. What is the dispatch process like, and does the broker ensure that the carrier has all of the necessary information when arriving at the shipping and delivering locations?
m. When there is a service failure how does the broker handle it?
n. How does the broker invoice you and accept payment?
Establishing the right relationship with the right transportation broker will assure that all regulatory and logistical issues are handled during the hiring process and most likely at a more affordable shipping rate. Do not take short-cuts or short-change when hiring the right company. The cost of only one transportation mistake far outweighs the cost of getting the job done right.
If you have questions regarding the shipping of liquid bulk commodities, All Systems Go Transport, Inc has two offices, one in Barefoot Bay, FL and one in Stephens City, VA, either of which with staff qualified to answer your questions. Their website is http://www.allsystemsgotransport.com.