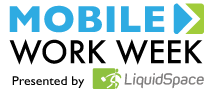 San Francisco, CA (PRWEB) November 29, 2011
LiquidSpace, the mobile application that helps anyone find a great space to work, today announced the first ever Mobile Work Week, taking place December 5th – 9th this year in the Bay Area. The event is open to the public and will include five days of lunchtime and evening panels, presentations and parties. More information on the event can be found at http://www.mobileworkweek.com.
What: Mobile Work Week
When: December 5th – 9th, 2011
Where: Various venues in Bay Area, CA
The Internet has changed many industries for the better, and the workspace is no exception. With the arrival of today's sharing economy – brought about by advancements in mobile computing, widespread smartphone adoption and the idea that we can do more with less – Mobile Work Week is championing a new way of getting things done.
Today, there is a new and growing ecosystem that includes revolutions in everything from the places we work, to the way companies view real estate, to the way workspaces are physically designed, to the role of the community in supporting sustainable economic development.
Moreover, there is an emerging collaborative community growing across businesses and industries. Mobile Work Week is all about connections – connecting workers to spaces, spaces to designers, designers to city planners, and more.
"Industry is reorganizing itself around a new paradigm: mobility, and Mobile Work Week is all about celebrating and connecting the entire ecosystem, each and every person that makes mobile working such a reality here," said LiquidSpace founder and CEO, Mark Gilbreath. "We've been especially focused here in the Bay Area and we can't wait to celebrate with the community here."
More details will be released, but highlights of the week include GigaOm's Net:Work on Thursday, an intimate fireside chat, a special opening presentation by Mayor Ryan Coonerty and other special guests during a venue crawl, a developer-focused panel, and a LiquidSpace closing party. Panels and presentations will explore opportunities and challenges around today's mobile worker, addressing important issues to ensure success as we enter into this new way of working.
To reserve workspace at any of the participating venues, visit LiquidSpace.com or download the mobile app to quickly and easily make an account, and reserve a spot.
Emerging details and RSVP information can be found at http://www.mobileworkweek.com.
Schedule Highlights:

LiquidSpace Crawl with presentations by Mayor Ryan Coonerty and other special guests
"Legal Advice for Startups" with Latham & Watkins
"The Mobile Worker Toolkit: Development with the Mobile Worker in Mind," roundtable discussion and late night co-working with the SF Nightowls
"Co-working Spaces and IP Law," a primer for founders and their attorneys with Rachel Lamkin, Turner Boyd, LLP
GigaOm Net:Work
LiquidSpace Launch Party at Bluxome Street Winery
"Is Your Business Ready for Mobile Work?" a design focused discussion with Kevin Kuske, Kirt Martin and other guests
Supporting Materials:
Visit the Mobile Work Week site here
Find Mobile Work Week on Twitter here and follow #mobilework
About LiquidSpace:
LiquidSpace is a location-based mobile application that lets you find the workspace you need, when you need it, wherever you are. You can book space in high-end business centers, hip startup co-working spaces, or hotel conference rooms. You can even unlock private spaces for meetings at offices that have space to share.
With LiquidSpace on your phone, you always see the best workspace available nearby, right now. You can book space for 15 minutes or a day, invite your collaborators, and check-in securely to unlock access to Internet, printers, phones, parking and more.
For more information, visit: http://www.liquidspace.com.
###