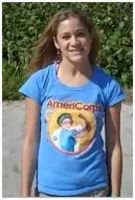 I was having trouble explaining the inconsistent rules that would tell a learner when to say 'the most' and when to put '-est' on the end of an adjective
Delray Beach, FL (PRWEB) October 27, 2009
Twenty-three year old Palm Beach County AmeriCorps member Megan Conners is receiving a national award today for creating an innovative strategy to help adults learning English.
The company recognizing Conners is America Learns. The Los Angeles-based firm monitors the performance of and supports tutors, mentors, coaches and new teachers across the country. Every month, America Learns names an educator or mentor it serves as its "America Learns Network Superstar." Network Superstars are individuals who create and implement innovative, effective strategies that move students forward in a meaningful way. Today, Conners is being named the October 2009 America Learns Network Superstar.
About Megan Conners
Conners, an AmeriCorps member with Literacy AmeriCorps Palm Beach County, is serving as an adult literacy tutor with Glades Family Education Program in Belle Glade. The majority of the adults she tutors are Hispanic or Haitian farm workers who are just beginning to learn English. Conners works with her students to improve their conversational English while building their reading and writing skills.
How Conners Became an America Learns Network Superstar
Earlier this month, Conners' students finished a chapter in their text book that covered the use of superlatives (words like older, largest, and smallest). "I was having trouble explaining the inconsistent rules that would tell a learner when to say 'the most' and when to put '-est' on the end of an adjective," Conners explains. "Even after working on these things for a full week, I did not feel like the superlatives were sticking in their minds."
Conners developed an effective, engaging, easily-to-implement strategy that helped her students learn how and when to use superlatives. The strategy, called "Sentence Sequencing Cards," involves engaging the learners in a series of pre-written question-and-answer based conversations.
"Prepare to be amazed as they remember those questions and answers better than anything they saw in the text book," Conners said when describing her strategy.
Read the strategy and watch a video of Conners explaining how to use it at America Learns Network Superstars.
What Others Are Saying About Conners and Her Strategy
"Megan made a huge commitment this year to serve at the Glades Family Education Program," said Audrey McDonough, Director of AmeriCorps, Literacy AmeriCorps Palm Beach County. "She drives one hour to the site and back home each day to teach adults who are at the very basic levels of English speaking and reading ability. Her students are primarily seasonal farmworkers who come to school every day to improve their English and better their lives."
"Megan is already having a significant impact on her class in her first month and a half serving as a Literacy AmeriCorps member," said Brad Hertzberg, Program Coordinator, Literacy AmeriCorps Palm Beach County. "Her America Learns strategy is a great example of her creativity and dedication to being a great teacher."
"Other adult literacy instructors who we serve across the country are already using Megan's strategy," said Gary Kosman, Founder and CEO, America Learns. "If Megan can make this sort of impact in just a month and a half, I can't wait to see what she does over the next year. I'm thrilled that we're able to capture and share Megan's smarts with the larger national service and adult literacy communities."
Conners' strategy will be permanently available starting today at America Learns Network Superstars.
About Literacy AmeriCorps Palm Beach County
Literacy AmeriCorps Palm Beach County is a national service program that recruits recent college graduates to provide literacy services to adults, children and youth. This "domestic literacy Peace Corps" contributes over 42,500 hours per year by tutoring and teaching, providing reading enrichment activities for children, participating in community service projects and recruiting community volunteers. In return for their year of national service, participants in this program, known as AmeriCorps members, receive a modest living allowance, an education award and health insurance. Literacy AmeriCorps provides opportunities for leadership development, professional growth and resume building. Learn more at http://www.literacypbc.org/programs/literacy-americorps/ website or by calling (561) 279-9103.
About America Learns, LLC:
Los Angeles-based America Learns is the premier performance measurement and learning firm in the tutoring, mentoring, and youth leadership development arenas. The company's flagship service, the America Learns Performance Measurement & Learning Network, helps volunteer, AmeriCorps-supported, and paid tutors, mentors, coaches and teachers to become highly effective while improving the practices of and reducing workloads around measuring, evaluating and reporting on educators and mentors' impact. Organizations using the Network include universities, community-based nonprofits, after-school programs, charter school management organizations, state government agencies, and public school districts. The company also creates and publishes award-winning learning resources for children that are steeped in relevant research and practice. Learn more at http://americalearns.net or by calling 310-689-0542.
###