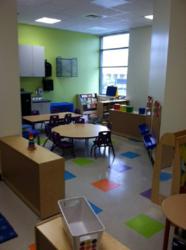 Boston, MA (PRWEB) November 29, 2012
Little Sprouts, a leader in early education recently announced the opening of its 17th school located at Boston University's Medical Campus. The school is scheduled to open December 10th inside the new medical student residence hall located at 815 Albany Street. Little Sprouts BUMC will provide award-winning education to Toddlers and Preschoolers. The 3,500 sq. ft. school features an outdoor playground with 6 classrooms and space for up to 87 children.
Little Sprouts BUMC will be led by local Brookline resident Kathleen Nichols. Nichols specializes in educating children with special needs and also holds a Master's degree in Early Childhood Education from UMass Boston. "I hope to continue to motivate young learners to exceed their expectations and find their ultimate purpose in life", Nichols proclaimed. The new Executive Director has prior experience coaching various age groups ranging from infants to college-bound adults.
For over 30 years Little Sprouts has provided early education and care to children throughout Massachusetts and New Hampshire. The organization has been nationally recognized by the U.S. Department of Education as a "Preschool Center of Educational Excellence". Over 95% of Little Sprouts' students graduate as early reading proficient, with 64% scoring as advanced for early literacy development and 25% testing as gifted.
New CEO, Mark Anderegg, noted his enthusiasm of the recent expansion in the Boston region. "We are delighted to establish this partnership with Boston University and are honored to have been selected by such a prestigious institution. Aligning our leading early education programming with the resources of a world class academic institution, promises to offer families an unmatched experience for their children. As a growing provider of early education services, Little Sprouts will look to continue its tradition of collaborating with colleges and universities throughout the Boston metro area."
Little Sprouts will be hosting an Open House on December 1st from 10am-1pm. Interested families can tour the new school, meet the Executive Director, and learn more about Little Sprouts' award-winning curriculum. For more information about Little Sprouts, and to find a location near you, visit http://www.littlesprouts.com.
About Little Sprouts: Little Sprouts has been a leader in providing award-winning early education and care since 1982. Over 64% of Little Sprouts students score as advanced for early literacy development, with 25% of students being gifted. Little Sprouts is home to 17 schools in Massachusetts and New Hampshire supporting families that reflect 56 cultures, speaking 23 languages, from all different walks of social, economic, religious and ethnic backgrounds. To learn more about Little Sprouts and how they expand the power and potential of early education and child care, visit http://www.littlesprouts.com.