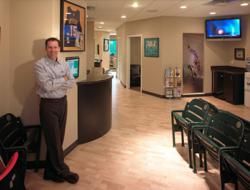 "I really try to make every smile special."
(PRWEB) April 03, 2013
Dr. Gary M. Holt, a respected orthodontist in Littleton and Highlands Ranch, CO, has been named to 5280 Magazine's list of Top Orthodontists for this year. It is the third straight year that he has received the award. The criteria for selection include industry experience, continuing education, application of the latest methods and technologies, patient relations, and results of treatments.
As voted on by other dentists, Dr. Holt is the only orthodontist in Highlands Ranch and Littleton to receive the award for both cities. The prize acknowledges his practice's unyielding commitment to clinical excellence, efficient treatment times, use of advanced equipment, and application of modern treatment methods, among many other areas.
"I am humbled and appreciative for this high honor. I really do try to make every smile special." – Dr. Gary Holt, Littleton and Highlands Ranch orthodontics provider.
Dr. Holt is also noted for being one of only three practitioners that are certified to install and maintain Invisalign clear aligners throughout the state of Colorado. As an ELITE Invisalign provider, he is counted among the top 5% of all orthodontists worldwide in terms of skill, training, and proper utilization of the Invisalign system.
"I love the art and science of braces--such a fun profession and so rewarding to see the beautiful smiles on all my patients--whether they are 7 or 77." – Dr. Gary Holt, Littleton and Highlands Ranch orthodontist
The distinguished Highlands Ranch and Littleton, CO orthodontist offers great options to those looking for comprehensive treatments. Serving the region at two conveniently located branches, Dr. Holt is committed to providing high quality, reliable, and cost-efficient treatment while seeing to it that patients experience the least possible discomfort.
About Gary M. Holt, D.D.S., P.C.
Dr. Holt has been named Best of the Best by the Highlands Ranch Herald, recognized by 5280 magazine as one of the top docs in Denver and holds the honor of being part of only five percent of orthodontists globally who have the title of Elite Premier Provider for Invisalign. He is a public lecturer and published author. He loves living in Highlands Ranch with his wife, two daughters, son, and two Yorkies. He and his wife enjoy cycling, running and both have completed the Ironman Triathlon. In his free time he enjoys running the east-west trail up to Highlands Point or cycling Deer Creek canyon, where the views are amazing.
For media inquiries, please contact Dr. Holt at one of his office locations:
Gary M Holt DDS PC
4185 E Wildcat Reserve Pkwy #100
Highlands Ranch, CO 80126
(303) 738-3175
Dr. Gary Holt
7889 S Lincoln Ct Suite 102
Littleton, CO 80122
United States
(303) 798-0928