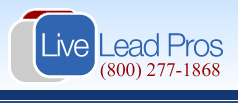 All a person needs to do is, give them a phone number to transfer the contacts to.
Phoenix (PRWEB) May 10, 2013
Live Lead Pros has announced certain smart solutions for call center management. The company is known for generating leads for a business with its services and the best can always be expected. Once they've called someone interested in a message, their management system can transfer the contact to the call center or office in seconds. All a person needs to do is, give them a phone number to transfer the contacts to. What sets them apart from everyone else is their comprehensive campaign delivery and management system. Below is a list of all of their call center management features, most of which cannot be found anywhere else. Just login to their Web Management System to see how easy it is to control a call center campaign.
Free Web Based Account Management
Change "Transfer" Phone Number in Real Time
Increase or Decrease the Number of Call Center Contacts Made Per Minute
Change the Caller ID Shown on the Outgoing Contacts
Change the Number of Simultaneous Calls Allowed to an Office
Playback Recordings for Quality Control
Add Numbers to the In-House DO-NOT-CALL List
Turn the Campaign Management ON or OFF In Real Time
Run Real Time Reports
Change the Scheduled Broadcast Hours
"When it comes to business leads, we are the best in the business. Live Lead Pros has the largest and most efficient all digital calling platform in the United States. We help companies deliver high quality prospects to their phones instantly," said a spokesperson from Live Lead Pros.
About The LiveLeadPros:
Live lead Pros.com's advanced digital platform allows them to record ALL transferred calls for quality control. Together with their comprehensive lead transfer reporting system, they provide an enormous amount of data for analysis by top management. Their lead transfer reporting system provides data on exactly how many lead calls were transferred, what were their phone numbers, how long were they spoken to, what hours of the day were most responsive, what days of the week were most responsive, what were the most responsive areas, what percentage of lead call transfers were spoken to for over a minute, over 2 minutes.Once the lead transfer results are analyzed, there are dramatic increases in campaign performance that keep most of their clients coming back again and again. For more details call them at (800) 277-1868 or visit http://www.liveleadpros.com/.