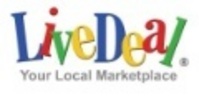 LiveDeal has a vibrant community of loyal users communicating and supporting one another on an ongoing basis
SANTA CLARA, Calif. & MESA, Ariz. (PRWEB) August 22, 2007
"The ability to quickly interact with others through more targeted LiveDeal online community forums will be a powerful tool for members who rely on the experience and know-how of fellow community members on our site," said Rajesh Navar, founder, president and chief architect of LiveDeal, Inc. "Users organize their discussion forums by topic to make it easy for other members to jump in to add their perspectives and share their insights and in turn build relevant content for multiple subsets of our users. Interesting topics such as 'How do I find a vet' and 'Which is your best movie' have already been created and used for discussion."
Once users enter LiveDeal, they may join any one of the topics-based community forums including: LiveDeal Q&A; LiveDeal Lounge; LiveDeal's Newest Features; Super Seller Forum; Special Events; and Local Notices. Users can also create new topics on an as-needed basis. LiveDeal's General Board is being retained for LiveDeal specific information including: new product features, promotional offers and other important LiveDeal news.
In addition to viewing updated postings from the LiveDeal team regarding important site information, members can interact through the LiveDeal Lounge or discuss the latest tips, tools and resources for selling on the site through the Super Seller Forum. Alternatively, the Special Events board can be reserved for organized discussions with other LiveDeal members.
"LiveDeal has a vibrant community of loyal users communicating and supporting one another on an ongoing basis," said Dan Coury, CEO and vice chairman of LiveDeal, Inc. "A critical component of our growth plan involves creating an environment that fosters trusted connections among our membership. With Rajesh heading up our experienced engineering team, we will continue to roll out useful new tools and exciting features that will make LiveDeal one of the most successful and engaging local online marketplaces."
About LiveDeal, Inc.
YP Corp./LiveDeal, Inc. is a leader in the local online classifieds and Yellow Pages marketplace with millions of goods and services listed for sale in every city and zip code across the U.S. Through its online properties LiveDeal.com and YP.com, LiveDeal offers businesses and consumers a simple and affordable way of creating a web presence and marketing their products and services to local audiences. Buyers and sellers come together through LiveDeal's vast local marketplaces to find and list business services, merchandise, real estate, automobiles and pets. LiveDeal, Inc. is headquartered in Mesa, Arizona. For more information, please visit LiveDeal.com.