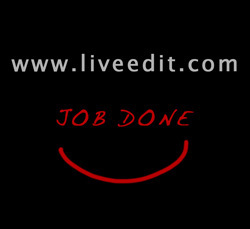 Creative companies face business continuity problems because too often one person holds all of the knowledge about creative assets
New York, NY (PRWEB) July 23, 2008
LiveEdit, a Web-based software tool for photographers, advertising agencies and other imaging professionals, is now available to the public. The revolutionary online program puts image workflow and images at the fingertips of its users anywhere, anytime -- allowing imaging professionals to cut costs and save time across the entire process.
The new service was created by professional photographers for optimal creativity and time management. Its intuitive interface is divided into to four core applications: Edit, Retoucher, Archive and Stock, giving photographers the ability to:

Collaboratively edit photo shoots
Compare and share retouching comments
Archive images
Sell photos 24 hours per day
Create layouts
Edit the color of images
Rate photos
Create Contact sheets
Enable clients to independently access high-resolution photos they need, when they need them
"Creative companies face business continuity problems because too often one person holds all of the knowledge about creative assets," says Darren Lipman. "Live Edit empowers everyone at a creative company to make the best use of creative assets."
Users are able to track their entire archive in one place, which will enable them to showcase and sell more photos by creating a personal stock site. LiveEdit offers:
Secure login
Customized branding
Functions and features that are fast, in-depth and easy to use
Agencies and companies who utilize the service will find a myriad of benefits, including savings when it comes to storing and cataloguing photography. The software has been successfully used by a variety of companies, including InStyle magazine, Conde Nast Publications, Proctor and Gamble, L'Oréal.
For photographers, LiveEdit (http://www.liveedit.com) helps them save time and money when it comes to reduced production times, and helps keep everyone who uses it more organized - especially considering that imagery can be accessed with ease from anywhere on the planet.
"The way in which professional photography is administered and disseminated is antiquated, inefficient and cumbersome," says Lipman. "LiveEdit brings ease and efficiency to this process, vastly speeding up time to market for photography. Its features help bring the photo profession into the modern era, where the cycle from shoot to end product must happen in days - not weeks or months."
About LiveEdit
Live Edit is a limited liability company based in New York City.
Hi-Resolution Video http://liveedit.com/promo
Contact Information:
Live Edit
http://liveedit.com
45 West 36th Street 7th Floor
New York, NY 10018
p. 646.461.6274
email. info @ liveedit.com
# # #