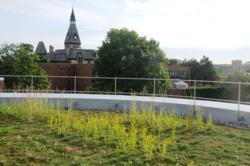 Bachman's delivered the LiveRoof modules fully vegetated with mature, full-grown plants for an instant green roof
Minneapolis, Minn. and Spring Lake, Mich. (PRWEB) June 29, 2012
LiveRoof, LLC (Spring Lake, Mich.), the green roof industry's top horticultural experts, and Bachman's (Minneapolis, Minn.), a family-owned wholesale and retail nursery that serves as a LiveRoof regional distributor and grower, announced that the LiveRoof® Hybrid Green Roof System was selected for the 1,800-square-foot green roof installed atop the new Anderson Center at Hamline University.
Located on the southwest edge of Hamline's campus in St. Paul, Minn., the 100,000-square-foot Anderson Center will be the official entrance to campus and a stunning meeting place for students, faculty, staff, alumni and visitors. The three-level glass and terra cotta building will bring together good food, meeting rooms, meditative spaces, a Spirit Store, and state-of-the-art technology to support the formal and informal gatherings that create bonds within the university. The project is designed to meet U.S. Green Building Council LEED® Silver standards. The Anderson Center will officially open its doors in the fall of 2012.
"The green roof is an essential feature in meeting our sustainability goals for the project, including energy savings, sound insulation, and reduction of stormwater runoff," said Lowell Bromander, associate vice president of facilities services, Hamline University. "It also creates beautiful and lush surroundings on the Anderson Center's third floor terrace that will undoubtedly be a popular gathering spot for our students, faculty, staff, alumni, and guests."
"The Anderson Center green roof at Hamline is the first large LiveRoof installation in Minnesota to use LiveRoof Deep Modules, which provide up to six inches of soil," said Dale Bachman, chief executive officer, Bachman's. "With six inches of growing medium, the green roof includes taller drought-tolerant grasses and native and adapted non-native perennials in addition to standard varieties of low-growing Sedum."
"Bachman's delivered the LiveRoof modules fully vegetated with mature, full-grown plants that they have adapted for the North Central region of the U.S. and cultivated locally in Minnesota," said Dave MacKenzie, horticulturalist and president, LiveRoof, LLC. "Installing a green roof with plants that are already established and flourishing provides immediate beauty, reliable results, sustainable growth, and trouble-free maintenance."
Bachman's is finding that universities and colleges are investing in green roofs. LiveRoof was recently selected for a 27,000-square-foot green roof for the Biomedical Discovery District at the University of Minnesota. Bachman's LiveRoof projects include installations at Bethel University, Arden Hills, Minn.; the University of Minnesota-Duluth, Duluth, Minn.; Lawrence University, Appleton, Wis.; and South Dakota State University, Brookings, S.D.
About Hamline University
Creativity and innovation in teaching and learning are the hallmark of Hamline University —home to more than 5,000 undergraduate, graduate, and law students. At Hamline, students collaborate with professors invested in their success. They are challenged in and out of the classroom to create and apply knowledge in local and global contexts, while cultivating an ethic of civic responsibility, social justice, and inclusive leadership and service. Hamline is the top-ranked university of its class in Minnesota, according to U.S. News & World Report. Founded in 1854, Hamline also is Minnesota's first university and among the first coeducational institutions in the nation. More information on Hamline University is available at http://www.hamline.edu.
About Bachman's
Bachman's has been in business since 1885, when founder Henry Bachman, Sr. first planted vegetables on a plot of land in south Minneapolis. Today, that plot contains the firm's headquarters, with acres of floral, gift, garden, and landscaping departments. Bachman's has grown to 29 retail locations in the Twin Cities and St. Cloud, Minn., including six full-service Floral, Gift and Garden Centers. Bachman's Nursery Wholesale Center has serviced the garden center, nursery and landscape industries since 1984. The Wholesale Center, located on a 629-acre growing range in Farmington, Minn., produces many of the plants, flowers and landscaping products sold at Bachman's today. Bachman's is the licensed regional grower and distributor of the LiveRoof® Hybrid Green Roof System in Minnesota and portions of Wisconsin and North and South Dakota. For more information, visit http://www.bachmans.com and http://www.bachmanswholesale.com.
About LiveRoof
LiveRoof®, LLC (http://www.liveroof.com) is the top horticultural science company in the green roof industry. Exceptional in design and function, the LiveRoof® Hybrid Green Roof System is the most refined horticultural solution. LiveRoof establishes a healthy, sustainable ecosystem that covers the rooftop with seamless vegetation. Licensed regional growers customize plant selection for every LiveRoof project. They deliver the system's modules abundantly vegetated with locally cultivated, full-grown plants for an instant green roof and trouble-free ownership. LiveRoof's natural function and natural beauty offer the highest level of green roof performance with ultra-low maintenance costs. The proof is on the roof — showcased in over 600 installations that total more than two million square feet.
###