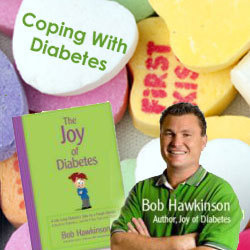 Help other Diabetics grab hold of this disease by the horns and wrestle it to the ground.
Jacksonville, FL (PRWEB) February 13, 2009
"With an estimated 24 million Type 1 and Type 2 people coping with diabetes and 57 million Pre-diabetics in the U.S. the odds of someone in your family being affected by diabetes is about 1 in 3.7. That would be that 'epidemic' diabetes thing you keep hearing about in the news." So says Bob Hawkinson, author, and lifelong diabetic of over 45 years.
With the ever increasing number of folks dealing with diabetes, it is more important than ever to "think before you give." Those gifts of candy may be beautiful and taste heavenly, but they can easily spell trouble for your diabetic loved one.
Try to keep in mind during this gift giving season that candy, carbohydrates, and sugars, are lurking everywhere. It can be difficult for people living with diabetes to estimate and regulate their sugar levels with all the temptation that abounds during this holiday. It's pretty obvious this holiday was not designed with Diabetics in mind.
"If you are going to give candy or foods with carbohydrates, try to find things that are in small pre-wrapped packages that are clearly marked for carbohydrate content." Most diabetics can work in a couple of chocolates into their diet that are 4 grams of carbohydrates per piece. However, just like everyone else, it's hard to resist large amounts of goodies". Think nuts, flowers, cards, oh yeah, and jewelry...jewelry is always good. Did I mention diabetes books?"
One advantage that becomes clear this time of year is the benefits of having a loved one around. It is quite often that a spouse or loved one is helping, coaching, and encouraging their diabetic companion. Support is important in managing diabetes. Many diabetics have also found help in online groups and forums that are aimed directly at diabetics and their loved ones. "It really helps people to talk to others who are experiencing similar things in their walk living with diabetes. You come to realize that others struggle just as you do and that there is no 'Perfect Diabetic.'" You can visit "Living Out Loud with Diabetes" at http://www.joyofdiabetes.ning.com to see a new, free, online diabetes forum that Bob is working hard to build and expand.
Bob's diabetes book, "The Joy of Diabetes" is not only inspiring, but it educates with a lighthearted and pithy approach. Bob, who is 46, was diagnosed with Type 1 diabetes at the age of 1. Bob's goal is to "Help other Diabetics grab hold of this disease by the horns and wrestle it to the ground." To order his diabetes book, go to http://www.joyofdiabetes.com.
# # #