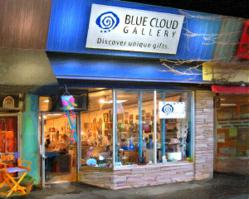 Somerville, MA (PRWEB) March 15, 2013
Blue Cloud Gallery is supporting Somerville Open Studios, the oldest open studios in the country, with a $100 gift certificate. The fundraiser for the Somerville Open Studios will take place on Tuesday, March 26, from 5-9 p.m. The event will be held at Flatbread Company, located at 45 Day Street, Davis Square, in Somerville, MA in the same brick building as the historic Sacco Bowl Haven.
A portion of all pizza sales will go to support Somerville Open Studio's mission in promoting local Somerville artists. Guests can enter to win the $100 shopping spree from Blue Cloud Gallery, located in Ball Square, a year-round venue for local artisans' work. Tickets will be on sale that night at the Flatbread Company Fundraiser and the winner will be selected at the end of the evening. While the money raised goes to support local artists, the winning patrons get the chance to experience, and to own, locally created, unique artwork from Blue Cloud Gallery.
Somerville Open Studios is a non-profit organization formed for the purpose of producing an annual open studio and related events in Somerville. Through its programming, Somerville Open Studios gives the public access to the work of visual artists living and working in the city of Somerville. The event began in 1999 as a way to provide a venue for artists working out of their homes and small studio buildings, as well as those in larger and established buildings. In the 13 years since, Somerville Open Studios has grown to become one of the largest events of its kind in the country with over 350 participating artists displaying their work every spring.
Blue Cloud Gallery is proud to showcase the unique creations of artists from the local community at its craft gallery. Over 100 artisans display an array of local crafts, ranging from ceramics and jewelry to graphics and glass.
About the company:
Blue Cloud Gallery, located in the heart of Ball Square, Somerville, invites the public to explore the many interesting handcrafted gifts created by local artisans. This unique gift store, owned and operated by fine art photographer Betsy Lenora, supports local artists and helps the community discover fine artwork. As a premier provider of art for sale in the Boston area, Betsy takes pride in the local artists and their art she represents. Come and be inspired by the ever-expanding array of fun and functional items designed, created and produced to delight every visitor. For more information visit her website at http://www.bluecloudgallery.com.