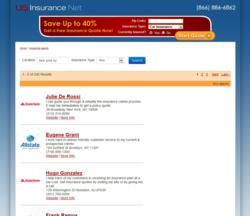 Users are able to quickly and easily find local insurance agents by submitting their zip code
New York, NY (PRWEB) March 07, 2013
With more and more advertising being focused on large, national brands, local insurance agents have been slowly been removed from the insurance quoting process for consumers. US Insurance Net is looking to change this trend by giving local insurance agents a way to get in front of those seeking out an insurance quote.
The new agent and broker directory allows insurance agents to create and maintain detailed profiles of themselves and their insurance agency. Each agent is able to create a profile for their agency and each of their offices they maintain with details such as hours, companies they represent and location details. They can also maintain profiles for agents working in each of their offices. These agent profiles include details such as languages spoken, insurance types offered and links to the agents social profiles.
Users are able to quickly and easily find local insurance agents by submitting their zip code and receiving back a listing of agents and brokers in their area. From this point, the user can get more details about the agent or contact them directly to receive more information. As always, users are also able to compare quotes from multiple agents using US Insurance Nets quoting system that can help match them with insurance agencies across the United States.
About US Insurance Net
US Insurance Net lets consumers compare insurance rates for multiple lines of insurance including car, homeowners, health, life and renters insurance. Users can complete a free, personalized insurance profile and have agents and brokers partnered with US Insurance Net, get in touch with them to help find the best insurance policy at the lowest price.