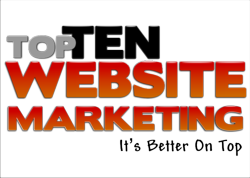 Our professional staff has been hand selected and trained in the proper procedures for SEO
Fort Lauderdale, FL (PRWEB) February 20, 2012
This month marks the five year anniversary of Top Ten Website Marketing, a South Florida-based internet marketing firm that is offering new clients 10% off on all local internet Marketing plans. Businesses often make mistakes with their marketing by either decreasing it, or using one of the more traditional but much more expensive mediums, such as radio, television, and/or print. Not only are these advertising techniques more costly, but they are also less effective. Top Ten Website Marketing, an SEO company servicing Miami, Broward, and West Palm Beach Counties, helps companies become much more effective in their Internet Marketing with services like creating more efficient website design and "search engine-friendly" websites. These services end up landing businesses at the top of Internet searches.
Top Ten Website Marketing has increased exposure and revenue for a plethora of businesses and companies and is proud to be able to prove their competency and effectiveness with the success of their past and current clients. One of the best West Palm Beach, Broward, and Miami Counties' Internet Marketing Firm's main goals is to make the client's website appear on the first page of Google, Yahoo, and Bing search results. Everyone knows that proper exposure and savvy advertising are imperative to a successful and lucrative business, and everyone wants to be displayed at the top of the list. Well, this SEO Company does just that. They maximize their clients' publicity in search engines and offer other expert services, like pay-per-click management, custom-designed websites, and website development and hosting. Top Ten Website Marketing optimizes and strengthens clients' websites, making them more efficient, practical, and user-friendly, guaranteeing superior standings in rankings, and growth in the company's overall Internet Marketing and recognition.
Along with improved techniques and impressive results, clients of the SEO Company, Top Ten Website Marketing, also appreciate the firm's professional and personal approach. Customers receive one-on-one Internet Marketing consultations, and assistance with the personalization and customization of their websites, therefore, increasing their overall recognition, ranking and standing, customer base, and of course, revenue. A leading provider of search engine optimization and local internet marketing services, Top Ten Website Marketing uses only the safest techniques to provide their clients with a strong return on their investment. They help customers develop complete and customized plans that fit not only their needs, but also their budgets; for example, this month's current promotion of 10% off SEO marketing plans and packages. Customers range from a myriad of industries, spanning from plumbers, electricians, and dog groomers, to roof and carpet cleaning companies, restaurants, and spas.
For more information about Top Ten Website Marketing, or to have us put together a personalized, cost-effective Internet marketing plan for your company, please call 305-970-5699 or visit us at http://www.seo-certified.net.
Media Contact:
Pete Pekofsky
Top Ten Website Marketing
Phone: 305-970-5699
###