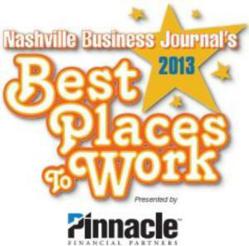 Nashville, TN (PRWEB) March 07, 2013
Local Search Masters (LSM), an Internet marketing firm that specializes in SEO, SEM, and social media, has recently been nominated as one of the best places to work in Nashville for 2013 by the Nashville Business Journal. Nominations were based on online surveys conducted by Quantum Workplace and were filled out by all company employees. The surveys focused on 10 major categories, ranging from team effectiveness to trust in senior leaders.
Companies are split between four categories (small companies, medium companies, large companies, and giant companies), with Local Search Masters residing in the small company category (10-25 employees). All of the honorees will be acknowledged on April 10th during the awards luncheon in downtown Nashville, TN. The top three companies with the highest scores in each category will also be announced at the awards luncheon.
Trevor Emerson, CEO of Local Search Masters, stated, "We're very excited about the nomination. We have worked hard at Local Search Masters to create a unique company culture that all of our employees can appreciate and thrive in. We work hard at LSM to keep our employees and our clients happy."
Matt Job, VP of Marketing at LSM, is also extremely thrilled about the nomination. "I enjoy working at Local Search Masters, and I believe that this nomination is a true reflection of our work environment. The atmosphere at LSM is one of our strengths. It's a lot easier to keep clients satisfied when employees are happy themselves."
About Local Search Masters
Local Search Masters is an Internet marketing company based at Cummins Station in downtown Nashville, Tennessee. Founded by co-owners Brad Hill and Trevor Emerson in 2006, the firm provides a variety of services to businesses of all sizes, including but not limited to: search engine optimization, original content creation, social media management, content auditing, paid search advertising campaign management, press release creation and distribution, and online reputation management.