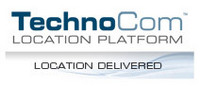 Encino, CA (PRWEB) January 5, 2011
TechnoCom's Chief Technical Officer, Mario Proietti will present how location intelligent technologies can enhance mobility solutions at the AT&T Developer Summit on Wednesday January 5, 2011 in Las Vegas, NV. AT&T has expanded upon their mobility solutions services with their Location Information Services allowing businesses and organizations to increase productivity and gain insight into their assets. AT&T Location Information Services will leverage the TechnoCom Location Platform™, a location-aware mobility solution providing ubiquitous access to real-time location and messaging information.
The TechnoCom Location Platform enables businesses and organizations to easily incorporate location and messaging into their existing functions. The location platform offers ubiquitous location via mobile or landline phone, and provides increased communications through a single unified application programming interface (API). Businesses and organizations can benefit from increased productivities, decreased costs, and improved customer service.
About TechnoCom
TechnoCom Corporation is a leading provider of products and services to enable wireless location solutions for enterprises, wireless carriers, and service providers. TechnoCom helps its customers efficiently implement, optimize and manage location solutions for E911 and commercial location-based services. TechnoCom Location Platform is a turn-key, enterprise location-based services platform that delivers operational efficiencies, cost savings and ubiquitous device access to location and messaging. The company's flagship Location eXchange Server™ and LocationAssurance Manager® platforms allow efficient implementation of wireless location solutions and continuous, automated oversight into location system performance.
Founded in 1995 and privately held, TechnoCom has been selected by Deloitte as one of the 50 fastest growing technology companies in Los Angeles for four consecutive years. TechnoCom's customers include AT&T, Bell Mobility, Cricket, Cross Country Automotive Services, Openwave, Sprint Nextel, TELUS, T-Mobile, and Verizon Wireless. For more information about TechnoCom, please visit http://www.technocom-wireless.com.
# # #