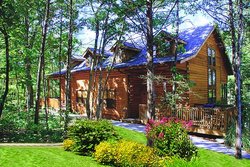 Until Branson cabins came along there was really no way to enjoy [Branson] scenery up close while stil having all the conveniences traverlers have come to expect
Branson, MO (PRWEB) April 5, 2011
Branson cabins haven't always been on the top of the list for lodging options for most travelers. In fact, until a few years ago a Branson cabin might have been known for its rustic, backwoods charms but not taken seriously as a place to stay on a luxury vacation. That has changed though as cabins have become a growing part of the lodging landscape. In 2011 cabins will actually be one of the most requested places to stay in Branson.
According to Ginger Groves, Rental Manager at the Cabins at Grand Mountain, Branson cabins fulfill a niche that was unfilled for years. "Part of Branson's charm is the natural scenery, wildlife, and peaceful terrain that the Ozarks is known for. Until Branson cabins came along there was really no way to enjoy that scenery up close while still having all the conveniences travelers have come to expect from big city hotels." These conveniences include free Wi-Fi internet, a fully furnished kitchen and dining room, king sized beds, Jacuzzi tubs, flat screen TV's with cable & DVD players, just to name a few. A central Branson location doesn't hurt either-being minutes away from Branson shows, Silver Dollar City, Dixie Stampede and more.
Despite all these luxuries Branson cabins have managed to retain the rustic and peaceful feel that visitors expect for a quiet cabin getaway. "Our cabins are located in the wooded hills, just a couple blocks from the Highway 76 Entertainment district. In addition, our cabins have Colorado spruce exteriors, fireplaces, and screened porches overlooking the woods and creeks of the Branson area." This location and attention to traditional cabin details makes Branson cabins a significant upgrade over the old camping cabins most people might first expect.
Since their inception the Cabins at Grand Mountain have been bringing the classic American icon, the country log cabin, into the 21st century with all the features travelers of today expect and deserve. Because of this Branson cabins have become one of the fastest growing nightly rentals in Missouri, outpacing more traditional lodging options such as hotels and condos. Because of this many popular dates sell out well in advance. Ginger advises prospective travelers to look at their options and book sooner rather than later. "Some of our largest cabins that hold families of 16 are booked more than a year in advance--the demand has been so great."
Savvy travelers are booking their Branson cabins now, as this trend in vacation lodging continues to explode. Many traditional hoteliers are looking at adding Branson cabin inventory to meet the needs of the American travelers. 2011 looks to be the year of Branson cabins as thousands of travelers will be happy to attest.
###