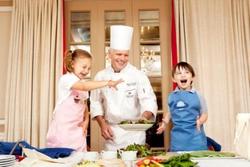 Getting children to eat healthy can often be a challenge
New York (Vocus) October 7, 2010
To celebrate the 20th anniversary of its ground-breaking Good Neighbor Policy this fall, Loews Hotels is helping families "Build a Better Lunchbox" to promote healthy eating habits and raise funds to support projects in local schools. Starting in October, Loews Hotels across the U.S. will host fundraising events where children and parents will have the opportunity to learn how to build a healthier lunch together, and at the same time support community schools through DonorsChoose.org, Loews' newest charity partner, a web-based not-for-profit that supports local school projects for individual sponsorship.
To further enhance the program, Loews Hotels has also partnered with Driscoll's, the nation's leading producer of fresh berries. Driscoll's Nutrition Expert, Tina Ruggiero, M.S., R.D., L.D. and Loews Regency Hotel Executive Chef Stephen Crocker teamed up to develop recipes that focus on variety, balance, nutrition and portion control and incorporate an added element of fun that all kids love. Each "Build a Better Lunchbox" event, beginning on October 24, 2010 at the Loews Regency Hotel in New York City and Loews Ventana Canyon in Tucson, Arizona through December 11, 2010 at the Loews Annapolis Hotel, will feature chef demonstrations, hands-on food stations to create lunch and special play areas for children. Proceeds will go to DonorsChoose.org to support schools in each Loews' community.
At the events, each child will receive a specially created Loews Loves Kids lunch bag, an organic cotton lunch bag filled with a coupon for a nutritious berry smoothie at a Loews Hotels, healthy lunch and snack recipe cards, fruit-shaped silly bands, crayons and a $20 donation card for DonorsChoose.org.
"Getting children to eat healthy can often be a challenge," said Chef Crocker. "For years, Loews has been committed to providing families healthier food options when they travel. With the help of Driscoll's, we are able to teach parents ways to incorporate variety, balance and nutrition into everyday school lunches, while also promoting the value of giving back to the community."
"Healthy eating should be a fun, enjoyable experience," said Registered Dietitian Tina Ruggiero. Working together, Loews and Driscoll's have created a valuable, interactive culinary program for parents and children that will surely impress and inspire better, more thoughtful food choices."
Loews Hotels and Driscoll's are expanding on their proven partnership to spread healthy eating habits to Loews guests. Driscoll's, a family owned company that has been growing berries for more than 100 years, features blueberries, raspberries, strawberries and blackberries grown by independent farmers who focus on providing the ultimate berry experience for consumers. In many instances, the farmers are third and fourth generation growers whose singular focus is to delight consumers.
As a part of the 20-year milestone of Loews Hotels Good Neighbor Policy, Loews Hotels has partnered with DonorsChoose.org in an effort to help improve public education. Across the country, thousands of public school classrooms lack the materials that are essential for learning. DonorsChoose.org provides a forum for public school teachers to post their classroom needs and special project requests such as books, materials or transportation fees for class trips for individual donors to choose from and sponsor. As the first national hotel partner for DonorsChoose.org, Loews hopes to raise more than $200,000 in total for DonorsChoose.org in 2010.
"Build a Better Lunchbox" event dates and locations:

Loews Regency Hotel (New York, NY) – October 24, 2010
Loews Miami Beach Hotel (Miami Beach, FL) – October 30, 2010
Loews Lake Las Vegas (Henderson, NV) – November 6, 2010
Loews Portofino Bay Hotel (Orlando, FL) – November 7, 2010
Loews New Orleans Hotel (New Orleans, LA) – November 12, 2010
Loews Ventana Canyon (Tucson, Arizona) – Novmeber 13, 2010
Loews Atlanta (Atlanta, GA) – November 13, 2010
Loews Coronado Bay (Coronado, CA) – November 13, 2010
Loews Philadelphia Hotel (Philadelphia, PA) – November 13, 2010
The Don Cesar, a Loews Hotel (St. Pete Beach, FL) – November 14, 2010
Loews Santa Monica Beach Hotel (Santa Monica, CA) – November 21, 2010
Loews Vanderbilt Hotel (Nashville, TN) – November 28, 2010
Loews Annapolis Hotel (Annapolis, MD) – December 11, 2010
For more information on local "Build a Better Lunchbox" events visit http://facebook.com/LoewsHotel.
About DonorsChoose.org
Founded in 2000, DonorsChoose.org is a nonprofit website where public school teachers describe specific educational projects for their students, and donors can choose the projects they want to support. After completing a project, the donor hears back from the classroom they supported in the form of photographs and student thank-you letters.
To date, 123,000 public and charter school teachers have used the site to secure funding for $49.5 million in books, art supplies, technology, and other resources that their students need to learn. Through http://www.DonorsChoose.org, individuals from all walks of life have helped 3.1 million students, the majority from low-income areas.
About Driscoll's
Driscoll's is a fourth generation family owned company that has been involved in berry farming for over 100 years. As the leading provider of fresh and organic berries, Driscoll's works with independent farmers to produce the highest quality berries in the world in an effort to continually delight all berry consumers. Driscoll's is the preferred berry partner of some of America's leading chefs and culinary institutions.
About Loews Hotels
Headquartered in New York City, Loews Hotels owns and/or operates 18 hotels and resorts in the U.S. and Canada, including the newest 414-room Loews Atlanta Hotel opened April 1, 2010. Located in major city centers and resort destinations from coast to coast, the Loews portfolio features one-of-a-kind properties that go beyond Four Diamond standards to delight guests with a supremely comfortable, uniquely local and vibrant travel experience. Loews boasts some of the industry's most innovative and successful travel programs, including Loews Loves Kids for families and Loews Loves Pets for discerning animals on the road. For reservations or more information on Loews Hotels, call 1-800-23-LOEWS or check http://www.loewshotels.com.
Follow Loews Hotels on Twitter at http://twitter.com/Loews_Hotels.
Fan us on Facebook at http://facebook.com/LoewsHotels.
Contact:
Gina Sisco/Molly Mesnard
Redpoint Marketing PR, Inc.
(212) 229-0119
sisco(at)redpointpr(dot)com
mesnard(at)redpointpr(dot)com
###