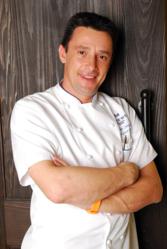 Atlanta, GA (PRWEB) March 18, 2013
The Loews Atlanta Hotel is pleased to announce that Executive Chef Olivier Gaupin has been inducted into the prestigious Maitres Cuisiniers de France (Master Chef of France), an exclusive organization dedicated to preserving and spreading French culinary arts.
"Membership into this highly selective association is a true testament to Chef Olivier's culinary excellence," said Dale McDaniel, Managing Director, Loews Atlanta Hotel. "We are proud of chef's well-deserved accomplishment. He is one of the best and we feel so fortunate to enjoy his talents every day at Loews Atlanta."
Six chefs in the United States, including Gaupin, were inducted into the Maitres Cuisiniers de France during a ceremony held March 18 at city hall in Lyon, France, where each chef was awarded a medal by Christian Tetedoie, president of the association, in the presence of Lyon Mayor Gérard Collomb.
All candidates must complete a thorough ethical and culinary review, which includes announced and unannounced visits to each chef's restaurant, by the Maitres Cuisiniers de France's special committee in order to receive acceptance into the members-only organization. Candidates must also comply with the organization's charter.
"It is an incredible honor to join the Maitres Cuisiniers de France's network alongside such high profile, talented chefs," said Gaupin, who joins an elite group of just 68 chefs in the U.S., including world-renowned chefs Pierre Chambrin, Michel Richard and Eric Ripert, in addition to more than 300 chefs worldwide. "French cuisine is a huge part of my life and I am very thankful for the recognition as well as the support from the wonderful Loews Atlanta team."
A native of Orleans, France, Gaupin, 42, joined the Loews Atlanta Hotel in 2010 as Executive Chef. He is responsible for overseeing the hotels' signature restaurant, eleven, Bar eleven, banquet services and catering. Gaupin's passion for simple, sophisticated and creative fare brings to life eleven's traditional, regional cuisine with contemporary style and an emphasis on natural ingredients.
Gaupin developed a passion for fine food and wine at an early age and followed in his uncle's footsteps to pursue a career in the culinary field. Gaupin visited the U.S. for what was intended to be a three-week vacation and has now been sharing his culinary talents in the U.S., France and Switzerland for more than 20 years.
In 1989, shortly after graduating from France's CFA Charles Peguy School, Gaupin served as chef de partie of the Michelin-rated Hotel Negresco in Nice, France. Later he served as a private chef on a yacht that travelled throughout the Mediterranean Sea, followed by stints as head chef for the private residence of the defense minister in Paris and as chef de partie at the famed Hotel Stuva Colani in St. Moritz, Switzerland. After permanently relocating to the U.S. in 1994, Gaupin was executive sous chef at Provence Restaurant in Washington, D.C. for two years, followed by dining room chef for the Pfister Hotel Milwaukee, Ritz Carlton Hotel Atlanta and Ritz Carlton Hotel St. Louis.
Gaupin also served as executive chef at the Watersound Beach and Resort, Water Color Inn and Resort, and Alys Beach Resort in Florida where he managed all aspects of the resorts' food and beverage outlets from 2001 to 2010.
###
About Loews Atlanta Hotel
Loews Atlanta Hotel is located at 1065 Peachtree Street in the vibrant Midtown district of Atlanta. The hotel features 414 supremely comfortable guest rooms including 44 suites complemented by exhale state-of-the-art fitness center and full-service spa, eleven and Bar eleven, the hotel's signature restaurant and bar, as well as 40,000 feet of meeting space. The hotel boasts an ideal location within minutes of Atlanta's leading business and cultural centers and under 15 miles from Hartsfield-Jackson Atlanta International Airport. The Loews Atlanta Hotel delivers a superior guest experience in one of the country's most dynamic cities. For more information, please visit http://www.loewshotels.com/atlanta or call 404-745-5000. Like us on Facebook at http://www.facebook.com/LoewsAtlanta and follow us on Twitter at http://www.twitter.com/LoewsAtlanta.
About Loews Hotels & Resorts
Headquartered in New York City, Loews Hotels & Resorts owns and/or operates 19 hotels and resorts in the U.S. and Canada including the newly acquired Loews Madison Hotel located in the heart of Washington at the epicenter of legendary D.C. landmarks and the Loews Boston Back Bay Hotel, one of Boston's preeminent historic buildings, situated on the corner of Berkeley and Stuart Streets. Located in major city centers and resort destinations in North America from coast to coast, the Loews portfolio features one-of-a-kind properties that go beyond Four Diamond standards to delight guests with a supremely comfortable, uniquely local and vibrant travel experience. For reservations or more information about Loews Hotels & Resorts, call 1-800-23-LOEWS or visit: http://www.loewshotels.com.
Like Loews Hotels & Resorts on Facebook: http://www.facebook.com/LoewsHotels
Follow Loews Hotels & Resorts on Twitter: http://www.twitter.com/loews_hotels
Watch Loews Hotels & Resorts on YouTube: http://www.youtube.com/LoewsHotels
MEDIA CONTACT:
Tiffany McKinney
404.745.5845
Tiffany(dot)McKinney(at)loewshotels(dot)com