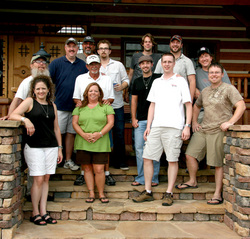 We are thrilled and honored to be asked to partner with Honest Abe Log Homes, says Brian Smith, Principal of Leadership Artists, LLC, and Mountain Heart's manager.
Moss, TN (Vocus) August 25, 2010
Honest Abe Log Homes, a leading manufacture of log cabins throughout the United States, recently forged a unique and active marketing relationship with Mountain Heart, a well established progressive roots/alt-bluegrass band. As Honest Abe lead a search for talent to appear in a series of new commercials, Mountain Heart leaped from the pool of talent surrounding Nashville, Tennessee and became an obvious choice to partner with. This pairing is a new approach for each organization as they partner to market and expand their target demographics.
"We are thrilled and honored to be asked to partner with Honest Abe Log Homes, says Brian Smith, Principal of Leadership Artists, LLC, and Mountain Heart's manager. "As sponsors of the very popular Music City Roots series, Honest Abe Log Homes teamed up with a great performance organization that we are quite fond of, so we know that the folks we are working with are top quality, forward thinking leaders. We couldn't be happier and look forward to working closely to move the needle forward for all involved!" Mountain Heart's musical virtuosity, unmatched energy, and keen sense of entertainment dynamics have helped them to forge a highly unique sound and stage show, which appeals to an incredibly wide variety of musical tastes. From large outdoor folk music and bluegrass festivals, to sold-out arena shows opening for Southern Rock icons, to appearing in over 120 performances on the stage of the legendary Grand Ole Opry, Mountain Heart has earned their rightful place as the recognized leaders in today's progressive acoustic sound. This energetic charisma, paired with remarkable talent and a wonderful fan-base appealed directly to Honest Abe Log Homes.
John Walker of Triad Media introduced the concept and played a direct role in connecting the two parties. "As co-producer of Music City Roots, and a marketing consultant for Honest Abe for nearly 10 years, I saw this as the perfect opportunity to exemplify our core roots marketing vision," said John Walker, Nashville producer and ad agency owner. "The message we preach is simple – create brand and demographic synergy between show content (Music City Roots), sponsors (Honest Abe Log Homes), fans (potential customers), and artists. In this case, no artist represents the marriage of old-school tradition with new-school forward-thinking better than Mountain Heart. It's no coincidence that this is the exact mission of Honest Abe and Music City Roots as well. The partnership is a match made in Heaven…everybody wins, especially the public, because they get treated to some of the finest music on the planet. It's all about integrity…the days of slick, deceptive advertising are over."
"Log homes, front porches and good acoustic music are just meant to be," notes Josh Beasley, who directs Honest Abe's marketing efforts. "We're providing the front porch, and Mountain Heart is sharing with us their great acoustic and vocal melodies. Within that scenario, we both win. Mountain Heart fans are introduced to the idea of living in an Honest Abe Log Home, while log home enthusiasts become fans of remarkable talent they may not get to hear on their usual drive home."
Social media stands to play a big role as well. "I think everyone involved is looking at this as a relationship, not just a one-time commercial shoot." noted Beasley. "We look forward to being in contact with the band, Brian and John to continually seek out new ideas and ways to spread our message without forcing it onto our fan base." Mountain Heart has already dedicated to share free music in the near future, which will be available for download through Honest Abe's web site. Early snippets of content shared on Facebook have already proven that the pair's fans approve of the relationship.
The commercials filmed will present various messages from Honest Abe Log Homes, each with Mountain Heart singing the company's jingle. They are set to air throughout the month of September during the morning news hours within the Nashville, Tennessee market. The commercials will also be available for online viewing on the companies web site at: http://www.honestabe.com
About Honest Abe Log Homes:
Founded in 1979, Honest Abe Log Homes, Inc. is located in the rural community of Moss, Tennessee. Honest Abe is a privately held, family owned and operated company. From its modest beginnings, the company saw steady and consistent growth, and is recognized as a leading manufacturer of log homes throughout the United States. Honest Abe sells and delivers log homes nation-wide through four company owned models in Tennessee, and through a network of Independent Dealerships throughout the country.
###