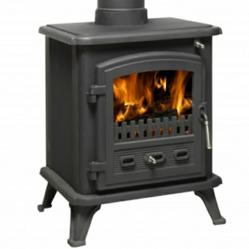 PipeLagging.com supply a range of fantastic cast iron log burning stoves
Manchester, England (PRWEB UK) 28 November 2012
As Christmas approaches us once more people all around the world are getting ready for that one magical day of the year. With homes decorated with twinkling lights and glorious trees the festive spirit starts to blossom.
But for some people there is always one part of Christmas day to look forward to most of all and it's not the most obvious part of the day's event. Once all the gifts have been exchanged and the iconic Christmas meal has been eaten it's time for the whole family to relax and enjoy one and others company. And it is this part of the day they cherish most of all.
And what makes this part of the day so special is how it is accomplished? It's accomplished by what man has done for thousands of years but with today's modern homes it seems to be over looked. They gather in front of a real fire! It is truly a magical experience as all relax and enjoy conversations and playing the Christmas board games with the kids, there is no Christmas TV just a family spending time with their loved ones and all because there is a real fire in the room.
However a standard gas fire does not hold this magical allure and most people feel that an open fire can involve too much maintenance such as lighting and cleaning it afterwards to warrant using it often. There is an alternative solution to this problem though and it comes in the form of a cast iron freestanding wood-burning stove.
PipeLagging.com stock the Dimplex Westcott stove range that are a multi-fuel appliance suitable for burning wood and most approved manufactured smokeless fuels. These stoves include an easy to control heat output and cast-iron construction giving the stove that great look but still offering you a real fire.
These appliances also include a riddling grate function giving it that easy to de-ash cleaning process and also boast an air wash system to maintain the clear glass door.
PipeLagging.com supply a range of these fantastic cast iron stoves as well as the perfect kiln dried wood for the job. The wood is air dried first then finished off in wood fired kilns the wood is a hardwood and sourced from Sustainable British Woodland .These logs provide the ultimate clean burn with maximum heat output.
Offering that real fire feel and delivering a great heat output, these stoves are a pleasure to use and easy to clean so much so that you may find yourself thinking that you should have owned one sooner.