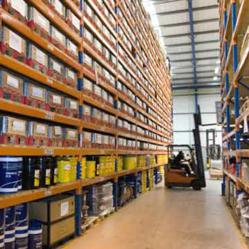 Houston, TX (PRWEB) March 23, 2013
Adams Warehouse & Delivery has completed a detailed analysis of the most often encountered situations that would mandate that a company look to outsourcing to leading logistics companies. This is an important consideration that directly affects the bottom-line. Company managers can now organize their game-plan to include outsourcing of logistics, thanks to companies such as Adams Distribution.
Adams, a Houston Warehouse explains that many times there is a fluctuation is a company's flow of business. This is not a time to immediately hire a bunch of new employees, build a new warehousing infrastructure. The company cautions that building a warehouse can be the beginning of the end for some companies. Things change, and the warehouse that was once a great idea, is now sitting empty, and can't be sold due to a volatile real-estate market. Maybe it is time to consider outside warehousing services.
Is it time to invest in a new fleet of trucks? This is another giant step that could cause a financial disaster. Adams suggests getting out a paper and pencil, and taking some notes. Jot down the salaries of the new personnel you would need to hire for: receiving, unpacking, picking and palletizing for deliveries. Include it all in this list. Nothing should be overlooked, this is critical to formulating a decision..
Consider the expense of either building, or renting warehouse space, with the knowledge that nobody knows what the future holds. Now a call should be made to speak with the firm's Insurance Agent, and include the increase in costs to cover all the new situations. Even the cost of in-house fulfillment should be considered, and compared with outsourcing.
All of these costs should be added-up and compared to a Quote from a company like Adams, and see which way is going to save money. Adams reports that they have this business fine-tuned. Their services like: order picking, kitting, repacking, inside-delivery and set-up, 24-hour deliveries, parts-picking, in-store merchandising and shelf-replenishment services are just some of the value-added services offered by Adams.
Adams boasts offering dependable nationwide fulfillment services since 1976. Management explains their Commitment To Service this way: "Adams Warehouse and Delivery consistently provides reliable full service logistics, and we are committed to flexible service, 24 hours a day. Our experience since 1976, has produced a well-oiled system of proper storage, impeccable inventory tracking, and dependable transportation. When it comes to the planning and implementation of moving goods, we not only get products to their destination safely, but we take pride in every shipment we deliver. From start to finish, you'll find that Adams Warehouse and Delivery exceeds your expectations every time".