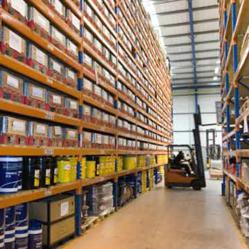 Houston, TX (PRWEB) March 28, 2013
Adams Warehouse & Delivery, one of the nations leading logistics companies announces that they have employed the "Total Security Protection Program". This advanced concept in warehousing services covers all of the bases. The program is designed so that there are no weak links in the security chain. Adams takes the stand that its clients are worth the extra cost of the best security available.
Adams Distribution, a leading Houston Warehouse providing warehousing since 1976, realizes the worth of every client's inventory, and they wanted clients to feel that their property is safe in any of its warehouses. The company reports that its physical masonry is nearly indestructible. So much so, that moisture and wind will not impact their inventory, no matter how bad the weather gets.
The warehouse locations are all totally equipped with fire sprinkler systems. There is a high-tech computer that is the brains of the system, located in the control box. It is set to activate in an extremely precise manner, thus preventing too much damage if a fire should erupt. The quicker the blaze is extinguished, the less damage there is, but it is an extremely unlikely event.
Adams wants clients to know that part of its security involves Closed-Circuit Surveillance Monitoring of the Warehouse Inventory. This not just a recording device hooked-up to a bunch of cameras, this is a Central-Station Monitored System. A live person is monitoring the many cameras installed throughout the premises.
The company reports that after 30+ years in the business, they have security finely-tuned. After all, if a corporation can't feel that its warehouse is secure enough to protect its inventory, they will not do business. Adams has built up a stellar reputation, and wants to keep it that way.
Adams Distribution claims to be the largest family owned Warehouse and Delivery company in Texas, and nobody has disputed it. They offer such a wide range of services that it is hard to find too many other firms that have as many services to offer. Clean Room Services are offered that are approved by the FDA and the Health Departments in Texas and Louisiana. Personnel are trained in repacking, product-pulling, kitting, and the packaging of commodities of any size.