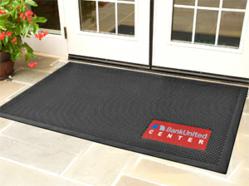 We love being able to add a company logo on this very functional entrance mat where it isn't trampled by heavy foot traffic
Cleveland, Ohio (PRWEB) March 25, 2013
The new SuperScrape™ Signature logo floor mats are designed for indoor or outdoor application. These floor mats use a new state of the art printing process capable of producing photo-realistic images with unparalleled detail and clarity. The image inserts are UV-resistant and durable in all types of environments.
The SuperScrape Signature logo entrance mats are designed for indoor or outdoor use, and are ideal for facilities that need dirt-scraping mat performance while promoting their company branding. With 150 standard color options, plus an optional PMS color matching option, molding a digitally printed thermoplastic material into a durable nitrile rubber mat produces multi-color images. These mats are impervious to sunlight and perform beautifully in all types of environments. There are unlimited color options available. The high traction floor mat surface effectively removes and traps tough dirt, grime and water from shoes, and the matting is also resistant to oils and chemicals.
"We love being able to add a company logo on this very functional entrance mat where it isn't trampled by heavy foot traffic," offered company president Dan Ruminski.
Super Scrape Signature Logo Mats come in 3 by 5 foot and 4 by 6 foot sizes in either horizontal or vertical orientations. The maximum logo or image insert size for the scraper entrance mat is 7 x 13.5 inches.
About Martinson-Nicholls
Martinson-Nicholls, has established itself as a leader in custom anti-slip tape, floor mats, and eco-friendly products for more than 25 years.
Martinson-Nicholls provides the customer with the exact size matting needed--small, large, standard, nonstandard, special shapes and logos. Custom installations are also a specialty of the company.
Anti-slip safety tapes and treads are available in various sizes and textures from hand cut or die cut pieces to full rolls and special shapes. For more information, please visit http://www.floormat.com.