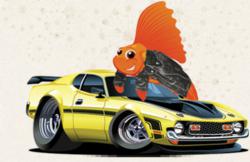 Shop owners, business owners, and I'm sure even homeowners in London can expect to benefit from the Games, but I think that if expectations start out too high, anything less is a disappointment.
New York, NY (PRWEB) April 28, 2012
RoadFish.com men's lifestyle and finance magazine were shocked to read that London property owners hoping to make a pretty penny through leasing out their homes for the 2012 Summer Olympics in London are falling short thus far. It's no secret that swarms of people flock to the Olympic cities during the Games, and that whichever city happens to be hosting that year experiences a surge in business and a boom in the economy for that spurt of time. It appears however that property rentals are not garnering as much profit thus far as originally anticipated.
An article by overseas real estate news reporters PropertyWire.com states that it appears that some London estate agents have made exaggerated declarations about the amount of money that homeowners could make in leasing out their properties during the Games. The article includes a quote from Jonathan Moore, the Director of Easyroommate, an online rental search website, who states, "As the finishing touches are put on the Olympic venues and London begins the countdown proper to the opening ceremony, it seems the capital's home owners are making their own preparations. A number of estate agents have made overblown claims of home owners able to command up to 300% rental premiums over the games but the evidence proves this is nonsense."
In fact, not only are renters not biting at the lofty prices that homeowners were hoping they could rent for, but the cost of rent for those already housed in rented units is expected to rise as the Olympics draws closer. The above-mentioned PropertyWire article includes another statement from Moore, who is quoted saying, "Demand for rooms and properties in Olympic boroughs is already beginning to push up average rents and the closer we get to the Olympic flame being lit the more demand we expect to see and the higher we anticipate rents to rise."
RoadFish.com's Senior staff writer is quoted as saying, "No doubt about it, the Olympics are going to make some good money for the UK. Shop owners, business owners, and I'm sure even homeowners in London can expect to benefit from the Games, but I think that if expectations start out too high, anything less is a disappointment. You need to keep in mind, the US is still going through a recession, and purse strings are tight. It'll still be lucrative, just maybe not as lucrative as people's wildest dreams."
An article by Esther Addley in the Guardian likewise reported woeful tales about homeowners who are having difficulty filling their houses and rooms, and therefore fulfilling their dreams of making some serious money off of the Summer Olympics. One British couple with a two-bedroom flat located just over a mile from the Olympic stadium has had an ad to rent the space up on several Olympic rentals websites, and after seven months have finally dropped the weekly price.
The article includes a quote from the Director of London2012Rentals.com, Gary Clark, who states, "The guide is that you can expect to get around three, four times normal rental rates. People are trying for seven, eight times that amount. If you are going to ask £3,000 for a small two-bed which is not great in terms of décor, you're a bit out of your depth. I keep saying, 'Look, there's money to be made here, but you're not going to retire on a week's rental.'"
Overall though, the numbers of rentals in London have drastically jumped from where they were this time last year. The above-mentioned PropertyWire.com article states that the rental website, HomeAway, is seeing 695% more inquiries for summertime London properties as this time in 2011. Likewise, the website claims that many owners with rental properties on the HomeAway are booked with rentals anywhere from 70-200% higher than usual. The article goes on to say that even though renting out property during the Olympics might not be easy, it can still prove to be good business for many homeowners living in just the right area and who are prepared to go the extra mile to gather all the necessary paperwork.
About RoadFish
RoadFish.com is an online men's lifestyle and finance magazine targeted toward men in their 30s and 40s that have already attained a moderate level of success in life, and are striving toward more. It goes over current events of interest to this group, such things as exciting adventures, making money, consumer interests, hot chicks, and credit and debt issues as well as ways to make more and save more money. It is a publication owned by Purpose Inc.
###