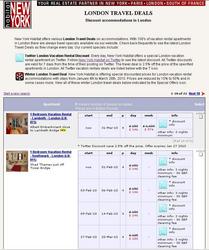 "New York Habitat has some of the best travel deals to London with Winter Specials and Twitter sales."
New York, NY (PRWEB) January 26, 2010
New York Habitat has been offering apartments and accommodation in London since 2002. With one of the most extensive selections of properties in the city, it is possible to find accommodation to meet the needs of anyone. Now, New York Habitat makes it easier to find the best deals for trips to London. The London Travel Deals website includes all of the latest apartment promotions.
At this time, there is a winter sale for accommodations in London. The prices of selected apartments in London have been reduced by between 10% and 30%. In partnership with property owners, New York Habitat is offering dozens of properties for the London Winter Sale. The sale is effective for apartment rentals between now and March 26th, 2010.
Some of the tops reasons to visit London in the winter include:

Chinese New Year Parade and Festival
London Fashion Week
Shrove Tuesday / Pancake Day events
London's winter sales
For more top ideas this winter in London, check out the New York Habitat blog.
In addition to the London Winter Travel Sale, the company has an ongoing apartment sale via Twitter. Selected London apartments are selected on a daily basis to receive the best prices.These properties are priced specially for a limited time. London apartment specials can be found on Twitter and the London Travel Deals website.
In addition to offering the best price value, renting an apartment in London offers a true chance to live like a Londoner. Shop in their markets, make a meal at home and blend into the local scene. With the London Travel Deals website, the best deals on apartments are just a click away.
New York Habitat has been renting furnished apartments since 1989 including 8 years of experience in the London market. Additionally, the company offers apartment rentals in New York, the South of France and Paris. The company's team is fluent in many making the process of finding the perfect accommodation even easier. The company offers over 12,000 apartments in 4 destinations.
Find the best travel deals to London via New York Habitat's London Travel Deals website. Book a trip now while the best London travel deals are still available.
###