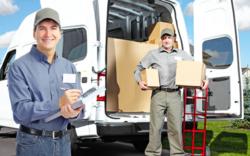 Pay attention when selecting long distance movers
Austin, TX (PRWEB) March 01, 2013
Movers.net consolidated an extremely large network of hundreds of long distance movers to create a unique offering that focuses on lowering costs, providing an expanded network, and streamlining the overall process for customers migrating to a new location.
Collectively, the long distance movers network would represent never before opportunities in terms of a larger fleet of trucks and moving equipment, a robust and efficient logistical framework, extensive inter-network collaboration, expedited moving times, world class customer service, and substantial cost savings.
Movers.net released the following official press statement this morning:
"Before we created this network of long distance movers, individuals would contact individual moving companies and solicit bids for their next move. It was a trial and error process where customers would often get burnt due to wrong choices. Furthermore, there was no way to negotiate a price reduction and check the company's track record before signing-up. Our network has changed all of that. We have developed an innovative way for customers to select long distance movers. Our team has aggregated hundreds of professional movers in one place. Furthermore, each customer who fills out a short 'free quote request' on our site will receive free quotes from three or more moving companies. In an effort to outbid each other on both price and service, companies are more likely to offer the best deals to customers."
"I have been in the moving business for over fifteen years but have never been as excited as I am today. We have finally developed a powerful mechanism to benefit both long distance movers and individual customers. This is a perfect place where technology blends with business strategies to produce mutually-beneficial outcomes for all parties. Furthermore, there is 100% transparency during the entire process," says Randy Rodriguez, CEO of Movers.net.
Matthew, a moving expert with Movers.net explained to the press the inner workings of their process: "At the outset, the customer completes a short thirty second free moving quote request. Within minutes, three or more companies will respond (via e-mail) with a free quote and initiate a dialog to take the process to the next level. That's it. Customers can check with our network to ascertain the track record of the company, ask questions, conduct detailed due diligence, and make their selection based on sound research and a solid backing from our company. No more horror stories."
Movers.net has been in the moving business for over fifteen years. During the last fifteen years, the company has helped thousands of customers move from A-B. The company connects individuals with long distance movers and helps them obtain free moving quotes from multiple companies. Movers.net company has consistently outperformed customer expectations and has collectively saved millions of dollars for customers. The company's internal analysts predict that it is poised to be a major player within the moving industry in the very near future.
If you would like more information about this topic, Visit our site at: http://www.movers.net/long-distance/.