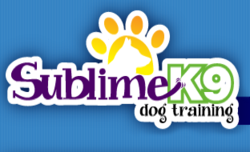 Wantagh, New York (PRWEB) September 06, 2012
Recently Long Island Dog Trainers, Sublime K9 Dog Training has updated their blog with company news. Sublime K9 wants to always keep their customers informed of new upcoming event within the company. Sublime K9 always gives tips to dog owners as well. Here is a few blog updates from Sublime K9 Dog Training.
TRAIN THE DOG WITH EYE CONTACT
SEPTEMBER 4, 2012
"Research points out that the most fundamental form of communication with the dog is through the eye. Establishing eye contact is a crucial first-step beginner in dog training exercises. Get in touch with the pet's inner senses with the help of this sense organ. Stay focused when training as this is the basic modus operandi to communicate with the pet. One can start as early as when the dog is 8 months old. Graduate to other techniques like heeling position training and moving. We at Sublime K9 offer customize dog-training services, as every dog is unique".
DOES MY DOG ACT OUT OF SPITE?
AUGUST 27, 2012
"Many of my clients tell me that their dog urinates in the house as soon as they leave out of spite or chews something up out of spite. I say that if dogs were spiteful they wouldn't make such amazing pets! Most likely your dog is acting out of anxiety. Maybe he has separation anxiety and acts out because of that when you leave. Think about when your dog acts out and see if you can relate it to some change in routine that may cause anxiety".
USING THE LEASH
AUGUST 25, 2012
"Using the leash in the house is a great tool to train your dog. A puppy should have a nylon leash on all the time while you are home and supervising. Of course you should never leave your pup with the leash on when she is unsupervised. Leaving the leash on will give you control at all times. You will be able to stop unwanted behaviors immediately and at the time they happen. This is not a forever solution, but until your dog learns basic manners in the house. After you feel your pup can lose the leash you can always go to the tab leash which is a short, mini leash. When you feel your dog no longer needs that, then she can be leash free".
CRYING IN THE CRATE
AUGUST 23, 2012
"Congrats on your new puppy! You are probably feeling all kinds of emotions like joy, love, happiness and PANIC! Its a lot of work having a new puppy. One of the things I hear from my clients the most is that their new puppy cries all night in the crate. Many times puppies are used to being with their mom and litter mates and they learned that when they are away from them, if they cry and whine, mommy will come and get them. This is natural for them, but can be very difficult for us when we are trying to crate train our pups. The puppy can learn to love his crate, but you have to set it up that way. All good things should happen in the crate, like feeding time and treats. Praise them when they go in then shut the door for a few seconds and let them out. Practice this a bunch of times before leaving them in the crate for a long period of time. Make it a great thing to be in the crate! Build up to longer periods of time in the crate.
When you do leave your pup in the crate at night and they whine remember that an important rule is not to let your pup out of the crate when he is crying. Only open the crate when he is quiet and calm. This means you have to wait for a moment of silence before letting your pup out. Get your new pup on a schedule so that you know he is not whining because he has to go to the bathroom. If you know all his needs are met and he continues to cry, you need to ignore it. That is the best thing you can do and after a night or two your pup will realize that whining will not get him out of the crate. Also, having him on a schedule will ensure that he will know when its bathroom time and training will be quicker".
Sublime K9 Dog Training is a strong believer in customer satisfaction and they make it there goal to make sure their clients are happy. The recently stated that they will be posting several blog post per month to keep clients informed of their progress.
P.O. Box 194 Wantagh, N.Y. 11793
631.241.6482
http://www.dogtrainerslongisland.net
info(at)sublimek9dogtraining(dot)com