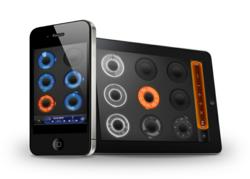 This looper app might just change the whole game
Marseilles, France (PRWEB) December 22, 2011
Software artisan company A Tasty Pixel today announces that its widely-praised live-looping app, Loopy, will be on sale for the duration of the holiday period, at 30% off the iPhone version, and 50% off the iPad/Universal version. The app allows anyone to create music by layering looped recordings of singing, beatboxing, or playing an instrument in a sleek, tactile interface that combines power with simplicity.
"This looper app might just change the whole game," said popular bass website No Treble recently, "The app offers great features, like pan, volume, timing adjustments, track merging, tempo adjustments and even MIDI over Bluetooth or WiFi, to sync up with other devices or apps."
Loopy empowers musicians to create by recording and layering, with up to twelve beautifully-rendered circular loops featuring overdubbing, count-in, count-out and record chaining. Users can import loops from a computer, or from other apps with integrated MAPI AudioPaste, and fit loops to the beat, no matter what tempo. A host of track features including full stereo audio with pan controls, track merging, configurable fade in or out, and live, dynamic tempo adjustment allow a wide range of expression. Whole performances can be captured with in-app session recording facilities, and recordings or individual tracks can be shared via SoundCloud, Twitter, Facebook or via email, or exported to many other audio apps with MAPI AudioCopy.
Loopy can be used with other equipment such as foot pedal MIDI controllers, or software such as Ableton Live or other compatible iOS apps, with its industry-standard MIDI support which provides sophisticated MIDI control and clock synchronization.
Device Requirements: iPad, iPhone 3Gs or newer, or 3rd-generation iPod Touch or newer (microphone accessory recommended) running iOS 4.0 or later.
Loopy runs on the iPod Touch, but iPod Touch users must use Loopy HD with a headset or external microphone, as the iPod Touch does not have an inbuilt microphone.
Pricing and Availability: For the holiday period, Loopy, the iPhone-only version of the live looper app, is available for $1.99 (normally $2.99) exclusively through the App Store in the Music category. Loopy HD, the iPad and Universal version of the app, is available for $3.99 (normally $7.99) through the App Store.
About A Tasty Pixel
A Tasty Pixel specializes in apps with beautiful and functional user interfaces – software that works like an extension of oneself, with the charm and elegance that make it a pleasure to use. A Tasty Pixel currently has two iOS apps available on the App Store -- The Cartographer and Loopy. A Tasty Pixel products have been extensively featured by Apple and have been finalists on several occasions for the prominent iPhone industry competition, Best App Ever Awards, hosted by 148 Apps.
A Tasty Pixel can be found on Facebook and Twitter.
###